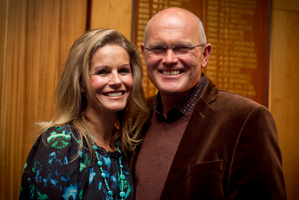 A day after publicly announcing his cancer was in remission, Kiwi cricket legend Martin Crowe has officially launched his autobiography detailing his battle with the disease.
Crowe launched Raw at his old stomping ground, Auckland Grammar School, yesterday.
The launch comes ahead of a national tour to promote the work that details the personal battles of the former cricketer regarded as one of New Zealand's best batsmen.
The book covers his retirement in 1996 following a brutal knee injury, depression, launching Cricket Max, the joys of fatherhood, the pleasure and problems he had working for Sky TV, and marriage to former Miss Universe Lorraine Downes.
Crowe was diagnosed with the blood cancer lymphoma last year, and on Wednesday announced he was in remission..