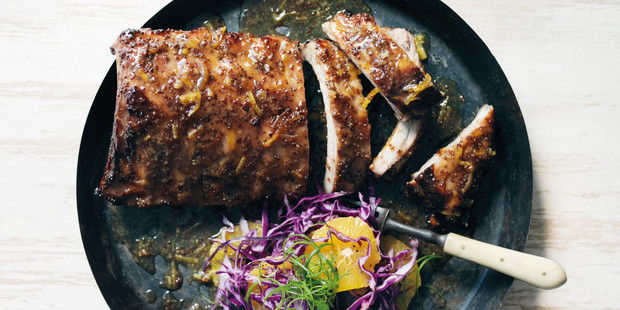 Serves 4
• ½ cup orange marmalade
• ¼ cup seeded mustard
• ¼ cup brown sugar
• 1/3 cup orange juice
• Sea salt and cracked black pepper
• 1kg pork ribs
Cabbage and orange slaw
• 4 cups shredded red cabbage
• 2 oranges, peeled and thinly sliced
• ¼ cup red wine vinegar
• 1 Tbsp olive oil
• 3 spring onions, thinly sliced


1. Preheat oven to 200C. Place the marmalade, mustard, sugar, orange juice, salt and pepper in a bowl and mix to combine. Add the ribs and toss to coat.
2. Place the ribs on a wire rack on a baking tray lined with aluminium foil, reserving the marinade. Bake for 45 minutes, brushing frequently with the marinade, or until golden and sticky.
3. To make the cabbage and orange slaw, place the cabbage, orange, vinegar, oil, salt and pepper in a bowl and toss to combine.
Top the slaw with the spring onion and serve with the ribs.


Tips and tricks
• For a more intense flavour and tender result, marinate the ribs overnight.
• Keep the marinated ribs in the freezer for up to three weeks for easy dinner options.
• Simply defrost in the fridge before cooking.
• You can also add a kick of spice to any of the recipes with dried chilli flakes.
For more recipes visit the Donna Hay website, www.donnahay.com.