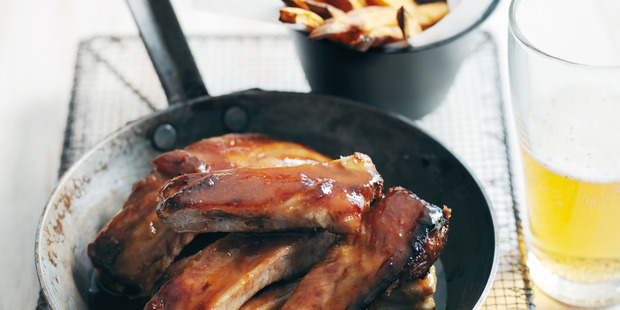 Ale and maple marinated ribs. Photo / Donna Hay Magazine
Serves 4
• ¾ cup maple syrup, plus extra for drizzling
• 330ml dark ale
• 1 Tbsp tomato paste
• Sea salt and cracked black pepper
• 1kg pork ribs, cut into 3 rib segments
• 500g kumara, cut into chips
• 1 Tbsp olive oil
• Store-bought aioli, to serve


1. Preheat oven to 200C. Place 1/2 cup maple syrup, the ale, tomato paste, salt and pepper in a bowl and mix to combine. Add the ribs and toss to coat. Marinate in the fridge for 1 hour.
2. Place the ribs on a wire rack in a baking tray lined with aluminium foil. Pour over the marinade and bake for 35-40 minutes, brushing ribs frequently with the marinade, or until golden and sticky.
3. While the ribs are cooking, place the sweet potato, oil and salt on a large baking tray lined with non-stick baking paper and toss to coat. Bake for 30-35 minutes or until golden and crunchy. Drizzle the ribs with extra maple syrup and serve with the kumara chips and aioli.

Tips and tricks
• For a more intense flavour and tender result, marinate the ribs overnight.
• Keep the marinated ribs in the freezer for up to three weeks for easy dinner options.
• Simply defrost in the fridge before cooking.
• For a lighter flavour, use pale ale instead of dark ale to make the maple ribs.
• You can also add a kick of spice to any of the recipes with dried chilli flakes.