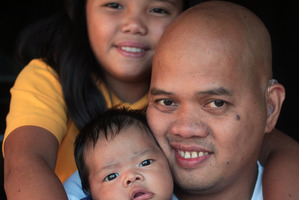 Baby Leandro Gayo - who lost his mum a day into his tough start to life - is back in his father's loving arms.
The 6-week-old is already rewarding grieving dad Norman with smiles. He needs them.
"I cry all the time, in the morning, at night," Gayo says. "I cry every time the baby cries. It's so difficult for me."
Leandro's mother, Leah, died a day after the birth from a rare amniotic fluid embolism during labour. Leandro was scooped out by emergency caesarean and left in the care of Auckland City Hospital and, later, foster parents, as Gayo returned his wife's body to their native Philippines.
Gayo returned to Auckland this week and spoke to the Herald on Sunday about being reunited with his son.
Leandro is doing well and weighs a healthy 5kg. "He looks like a 3-month-old because he's drinking so much. He has 150ml every four hours. He's very greedy."
Gayo says he is grateful for the support of members of the New Zealand Filipino community. Gayo has no family in New Zealand but friends visit every day, cooking, cleaning and helping with Leandro.
The financial burden from not working for six weeks, the cost of returning to the Philippines and Leah's funeral has been eased by the generosity of the community, which has donated $10,600.
"It's such a blessing to me. I just want to say thank you to all the people who have helped me."
Gayo has not yet decided whether to complain to the health and disability commissioner, and is struggling with a promise he made to his wife that he would remain in New Zealand.
Auckland District Health Board spokeswoman Jennifer Dann said the board was investigating the circumstances leading to Leah Gayo's death and no comment would be made until that was complete.
They invited Gayo again to meet them, Dann said.