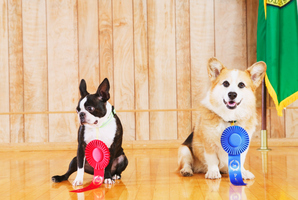 A British village dog show has been scrapped after fighting broke out between competitors who behaved "like football hooligans".
The annual dog-grooming contest began as an event for families in Higham, Kent, five years ago and has grown in popularity.
Organisers expecting a record 700 dogs for this year's event on Monday found themselves overwhelmed by a bank holiday crowd nearing 2000. That put too much pressure on facilities at the local Memorial Hall playing fields and trouble flared when visitors struggled to find room to park.
One motorist punched an 18-year-old volunteer, who was also punched by a cyclist angry that traffic was blocking the street.
Police were called after dog owners turned on event organisers, complaining their pets had not won a rosette and demanding compensation. Two women even started fighting.
Event founder Rachel Hodges, 49, has now cancelled the event for good.
She said: "I had rubbish thrown at me and I had abuse thrown at me. They were like football hooligans.
"It was a free event and all proceeds went to charities. We were giving money to Help for Heroes and people were demanding we give them compensation.
"If we did it again we'd probably need a security team. I can't put my family and friends at risk."
- DAILY MAIL