With a snappy hook rack, bedrooms need never be messy again, says Greig Morgan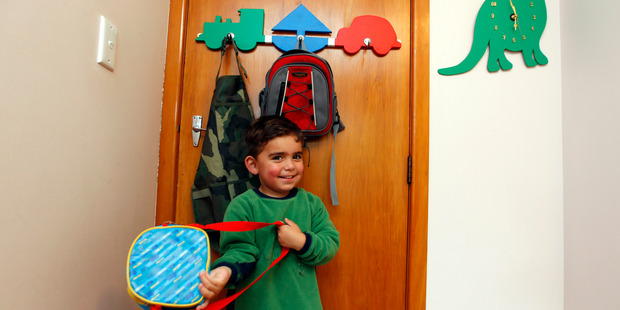 Believe it or not, some kids find it hard to sleep in a messy room, or to do homework or play happily there (and for those who don't care, the mess still drives their parents mad!). It's always the same things that end up on the floor - bags, dressing gowns, goggles, towels.
But with a simple, attractive set of hooks, order can be restored, with a place for everything, and everything in its place.


Step 1 - On a sheet of MDF, sketch or trace around a series of different shapes required to suit your bedroom theme, keeping them in proportion to the door. Let your imagination run wild.
Step 2 - Using a jigsaw, carefully cut around the shapes on the waste side of the pencil line keeping the shapes linked together as one piece.
Step 3 - With the linked shapes now cut out, sand smooth and remove all sharp edges, ready for a few coats of paint. I painted each shape a different colour, defining each shape in-between.
Step 4 - On the back, mark and fix the centre of both brackets with the screws provided. Allow each bracket to poke out from the edge of the rack so you can attach it to the door with a screw.
Step 5 - On the front, mark the centre of each shape and fix the hooks with the screws provided.
Step 6 - Centre the rack across the width of the door, make sure it's straight, and then mark. Fix it to the door with screws through the end brackets.


Materials
• 12mm MDF
• Cup hooks with screws
• Brackets with screws
• 120g sandpaper
• Paint, assorted colours
Tools
• Protective wear
• Pencil
• Jigsaw
• Screw gun
• Paintbrush


Tip
Make sure the length of the screws you use for attaching the hooks and end brackets is is less than the thickness of the MDF, so they don't poke through.