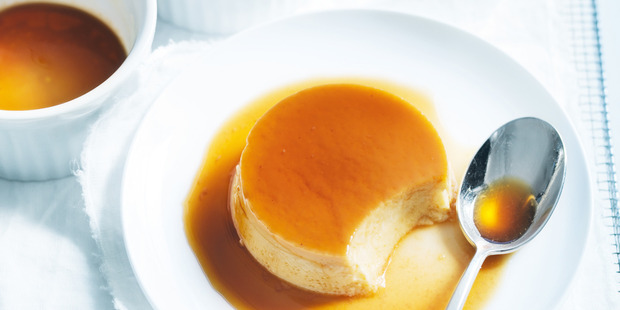 A timeless classic, creme caramel is such an impressive, yet simple, dessert to make and never fails to draw excited gasps from dinner guests. It's the little details that make all the difference, so follow these three easy steps to a decadent, creamy treat laced with the rich flavour of caramel.


Makes 4
• 2/3 cup caster sugar
• 1/3 cup water
• 3/4 cup milk
• 3/4 cup pouring cream
• 2 eggs
• 4 egg yolks, extra
• 1/3 cup caster sugar, extra
• 2 tsp vanilla extract


Step 1. Preheat oven to 150C. Place the sugar and water in a saucepan over high heat and cook, stirring, until the sugar is dissolved. Bring to the boil and cook for 14-16 minutes, without stirring, or until the mixture is dark golden. Pour into 4 x1 cup-capacity ovenproof dishes. Put aside for 5 minutes or until the caramel is set.
Step 2. Place the milk and cream in a saucepan over medium heat and cook until just boiling. Remove from heat. Place the eggs, extra yolks, extra sugar and vanilla in a bowl and whisk until well combined.
Gradually add the milk mixture, whisking to combine. Strain the mixture and pour over the caramel into the dishes.
Step 3. Place the dishes in a baking tray lined with a folded tea towel and pour in enough boiling water to come halfway up the sides of the dishes. Bake for 20-25 minutes or until just set. Remove from the tray and refrigerate for 2 hours or until cold. Remove the creme caramels from the fridge at least 30 minutes before serving to bring up to room temperature. Run a knife around the edge and carefully turn out on to plates to serve.


Tips and tricks
• Straining the custard mixture removes any bubbles or undissolved solids for a silky-smooth caramel.
• Placing a tea towel in the base of the baking tray stops the dishes from moving around and ensures the creme caramel cooks evenly as the dishes don't touch the baking tray directly.
• Dip the base of the creme caramel dishes into hot water for 10 seconds before turning out. This will make it easier for the caramels to slip out. If the custard sticks to the sides of the dishes, simply run a small, sharp knife around the edge.
For more recipes visit the Donna Hay website, www.donnahay.com.