Correctly matching wines to food is easy to get wrong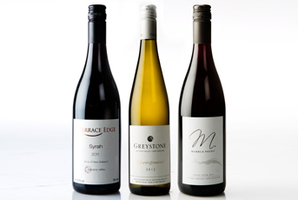 Chardonnay with lamb and a delicate sweet riesling with a bold chicken dish were some of the less successful combinations I encountered while judging at this year's Canterbury Wine Awards. Although I'm always up for trying novel food and wine pairings, this experience served as a reminder of how matches made in hell have the potential to leave a devilishly bad taste in one's mouth.
It's the second year the competition has been held and it is the only wine show in the country to judge wines not only on their intrinsic quality, but on their compatibility with food. I think it's a great idea, as it places the wines in the context in which they're best enjoyed: as part of a meal. However, as wineries had to decide which food category to enter their wines - from seafood to venison, Asian to cheese - some choices resulted in few favours being done to wines that would have shined if tasted with appropriate dishes.
I've written a lot about finding the best matches. But, inspired by these uneasy gustatory unions, this week I'm exploring pairings that are best avoided.
As everyone's sensitivities are different, a lot comes down to personal taste. For example, the standard thinking is to avoid tannic reds with spicy fare as these will intensify the perception of a dish's heat. However, when I attended an Asian food and wine matching workshop with a leading Chinese wine professional, he said he favoured grippy wines with hot food for an extra burn.
However, some combinations still generally don't work and there are wines and foods that are particularly tricky to pair. Take dessert. Or rather, don't if you're planning on partaking of your pinot noir across the duration of a meal. Sip on a wine with less sweetness than your pudding and it will taste sour, thin and devoid of fruit. And if you're finishing with something rich, such as a chocolate dessert, you'll need a wine with considerable sweetness and power, so best pass the port rather than the pinot.
Homing in on specific "high-risk" items, artichokes are the Hannibal Lecter of wines, dispatching many with the strange chemical reaction it creates through an acid it contains that makes things tasted after it appear sweet to some and bitter to others. Best stick to something crisp and light and avoid wines with bitterness.
Seafood salad and a ripe Aussie shiraz anyone? Not if you're looking for a harmonious match as the powerful flavours of the shiraz will overwhelm the more delicate ones of the seafood. Given its relatively low levels of acidity, the shiraz in turn will be rendered flat and flabby by any vinaigrette or citrussy dressing, which needs a similarly crisp wine companion. Sauvignon or a dry riesling will prove far more pleasing.
Far be it for anyone to dictate what you drink with your dinner. But a bit of thought about how what you're eating will interact with what's washing it down will lead you down the path of palatableness rather than the road of bitter disappointment.


WINNING MATCHES
And now for some successful synergies from a selection of trophy winners from this year's Canterbury Wine Awards.
TROPHY MATCH
Terrace Edge Waipara Valley Syrah 2011 with chargrilled loin of venison
This superb syrah won best in show, for being a great wine and going so well with the venison reference dish. Although Waipara's cooler climate means it's not known for its syrahs, this comes from a vineyard planted on a precipitous north-facing slope for maximum sun exposure. That's no doubt what's behind the rich, ripe character of its fresh, plummy fruit infused with intense notes of black pepper.
• $24.95 from Point Wines, New World Stonefields, Ellerslie Bottle-O, St Heliers Wines & Spirits, Hillsdene Wine Cellars, Epsom Green Bottle
PERFECT COMBINATION
Greystone Waipara Valley Gewurztraminer 2012 with walnut gouda
Greystone's consistently great gewurz took the trophy again in the cheese class with its latest vintage, which exudes aromatic notes of rosewater, lychee and spice, while possessing a fruit sweetness and intensity that made it a good match with the sweet saltiness of the cheese.
• $29.95 from greystonewines.co.nz
HIGH FLYER
Marble Point Hanmer Springs Pinot Noir 2011 with roasted rump of lamb
If you've not yet heard of Marble Point, you'd be forgiven as it's a relatively new boutique estate in Hanmer Springs, where it's the only vineyard. However, its wines are proof that it's possible to grow great things at this high altitude site. The pinot possesses ripe plummy fruit, overlaid with notes of spice, earth and an attractive savoury undercurrent, which made it a delectable partner to the lamb.
• $32 from marblepoint.co.nz
- VIVA