Greig Morgan makes a jewellery tree that puts precious pieces on display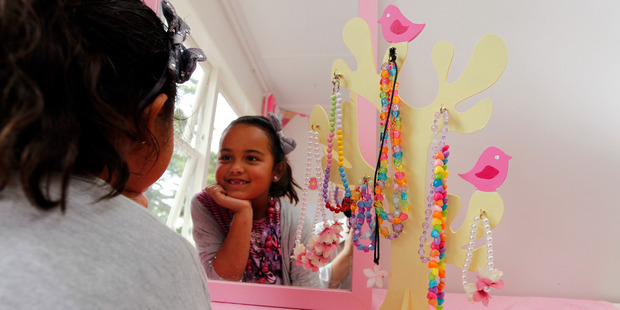 When you have lots of sparkling jewellery, it's a pity to keep it packed away in a box - out of sight and, pretty soon, out of mind. A much better idea is to display it all elegantly on this easy-to-make jewellery tree.
Be warned though: make one, and you'll soon have a queue of youngsters all wanting you to make them one too.


Step 1 - Sketch out the shape of a tree to the proportions you desire on your piece of MDF. Allow the bottom to flare out to create the stand out of the trunk, and include enough branches to accommodate all of your jewellery. We added a couple of birds to ours for decoration.
Step 2 - Using a jigsaw, carefully cut around the shape on the waste side of the pencil lines.
Step 3 - Place your tree shape back on the sheet of MDF and use the trunk as a template to trace around and create the other half of the stand.
Step 4 - Sand smooth and remove all sharp edges, ready for painting.
Step 5 - Measure and mark the centre of both stands by the thickness of the MDF (6mm), then measure halfway up from the base of the tree, and halfway down from the top of the stand.
Step 6 - Cut out both parts of the stand to your measurements and check to see if both pieces interlock with each other. They should be a snug fit and flush at the bottom before you add a bead of glue to secure.
Step 7 - With your tree assembled and painted, screw the hooks into the upper branches. Then have fun arranging your favourite pieces of jewellery.


Materials
• 6mm MDF
• Screw in hooks
• 150 g sandpaper
• Wood glue
• Paint
Tools
• Protective wear
• Jigsaw
• Pencil
• Tape measure
• Paint brush/speed brush