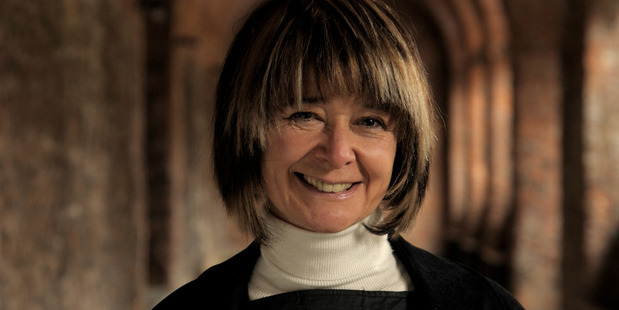 Blood & Beauty by Sarah Dunant
(Virago $36.99)
Sarah Dunant's trio of novels set in Renaissance Italy cemented her reputation as one of the great writers of historical fiction. She's a bit of a Renaissance woman herself: an award-winning crime writer, Cambridge history graduate, cultural and political commentator, feminist. All of these factors give substantial layers to her fictional writing.
Dunant's latest novel, Blood & Beauty, moves from the more northern cities (Ferrara, Venice, Florence) to Rome. Here she places the powerful Borgia family under scrutiny and, as you'd expect, pays attention to women as much as men as she pursues the trails of corruption, lust, violence and allegiance.
At the entrance to her website, Dunant's banner tells you she's been writing novels set in Renaissance Italy for 12 years and the name "Borgia" has haunted her - it's a dynasty that has attracted a lot of bad press over the years in light of its bad behaviour in both the church and secular worlds.
The novel opens with the ritual of selecting a new pope in 1492 (it was very timely to be reading of the process, but it seems this year has produced a very different man for the job). In 1492, Cardinal Rodrigo Borgia bought his way into the role, and rather than strive for Christian values (charity, humility, compassion, forgiveness, etc), he was hungry for wealth, land titles, honour and power. What would he not do to achieve these ends?
Pope Alexander VI had four illegitimate children housed with and near him (along with his young mistress). The mother, however, was banished to a place in the country and the mothering was handed over to another woman. It's clear he loved these children (although to different degrees), but each one was a pawn he could move around the marriage chessboard to secure the greatest benefit to his dynasty.
We're talking famous offspring here: Cesare (who was a model for several strategies in Machiavelli's The Prince, and Lucrezia (who grew in political acumen through three marriages and outlasted the men).
The key issue when you read a novel like this is the precarious line between actuality and invention. In her endnote, Dunant says the novel is "an act of the imagination" that draws upon the work of contemporary historians and archival material (her bibliography draws upon centuries of thought). As she has delved into the historical narrative, certain contested events (such as the paternity of particular babies and the perpetrators of particular deaths) find their own solution in "the psychological truth of her characters".
The novel is a sumptuous read that both moves and appals you. One of my favourite sentences is Lucrezia's: "Every woman who walks through the world knows there are two roads: a wide, triumphal route for the men, and a second, mean little alley for women."
Dunant has furnished both route and alleyway with terrific detail and insight.
As I read this gripping version of the past, Blood & Beauty forced me to reconsider the present on many political and cultural levels. I loved that.