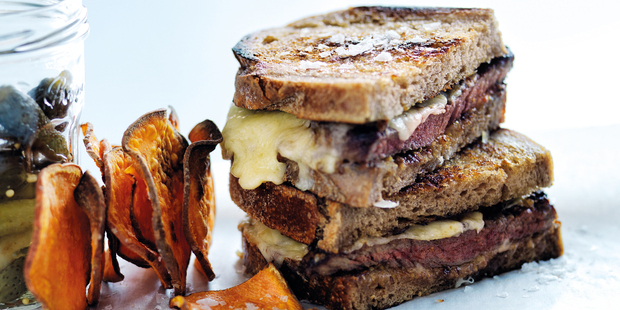 Steak and gruyere sandwich with kumara chips. Photo / Donna Hay Magazine
Makes 4
• 2 tsp fennel seeds
• 1 Tbsp sea salt flakes
• ½ cup whole-egg mayonnaise
• 1 Tbsp seeded mustard
• 8 slices rye bread, toasted
• 4 x 150g rump steaks, trimmed
• Olive oil, for brushing
• Cracked black pepper
• 120g gruyere cheese, sliced
• ¼ cup dill pickles, sliced
Kumara chips
• 200g kumara, thinly sliced
• ½ Tbsp olive oil


1. Preheat oven to 200C. To make the chips, place the kumara in a single layer on a baking tray lined with non-stick baking paper. Drizzle with the oil and sprinkle with salt and pepper. Roast for 15-20 minutes or until crisp and golden. Set aside.
2. Place the fennel seeds and salt in a mortar and pestle and grind to combine. Set aside. Place the mayonnaise and mustard in a bowl and mix to combine. Spread half the bread slices with the mayonnaise and place all the bread slices on a baking tray.
3. Preheat the grill to high. Brush the steaks with oil and sprinkle with the fennel salt and pepper. Heat a large non-stick frying pan over high heat. Cook the steaks, in batches, for 1-2 minutes. Turn and top each steak with 2 cheese slices.
4. Place the steaks on the bread slices spread with the mayonnaise and grill for 2 minutes or until the cheese is melted. Top with the dill pickles and remaining bread and serve with the kumara chips.


Tips & tricks
• These sandwiches work just as well with minute steaks as they do with rump or sirloin.
• You can swap the cheeses depending on your preference. You could use vintage cheddar for more bite or taleggio for more intense flavour.