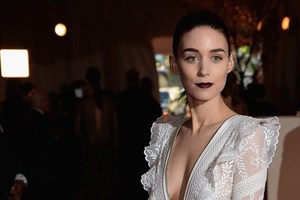 Actress Rooney Mara has been named the new face of Calvin Klein.
The 28 year old will re-team with David Fincher, who directed her in The Social Network and The Girl with the Dragon Tattoo, to shoot a series of TV advertisements for the American fashion house's upcoming female fragrance, Downtown.
The perfume, which will feature a mixture of scents ranging from green pear to pink peppercorn, will hit stores in September, and Mara is thrilled about the project.
"I am very excited to be included in the group of amazing women that have been featured in the iconic advertising campaigns for Calvin Klein fragrances," she said.
"It's an honour to be part of a brand with such a legacy of breakthrough advertising."
The beauty joins a long list of stars who have shot campaigns for the firm, among them Christy Turlington Burns, Diane Kruger, Zoe Saldana and Eva Mendes.
On Wednesday the fashion house announced that Turlington Burns will front its autumn/winter 2013 underwear campaign.
- WEN