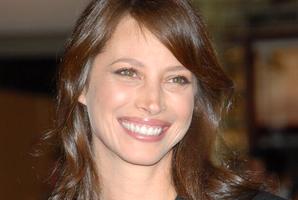 Christy Turlington Burns will front Calvin Klein Underwear's autumn/winter 2013 campaign.
The model has a lengthy relationship with the fashion house, having walked for Calvin Klein in 1987. The following year she appeared in a campaign for the company and then she became the face of its Eternity scent.
The new images were taken by Mario Sorrenti in Vieques, Puerto Rico, and promise to include a number of pieces representative of the chic aesthetic the company is known for, according to WWD.
The pictures will hit magazines' September issues and will also feature online. One teaser shot shows Turlington leaning against a wall with her arm reached up and snaking over her head and down her back. Her brunette hair is slicked back and she is staring at the floor, wearing a delicate black bra. Her make-up is kept natural, with her tanned skin glowing.
The model has also appeared in images to promote Calvin Klein's jeans and swimwear collections in the past.
This is the second piece of major news from the company this week.
On Tuesday it was announced the fashion house is rebranding its ck Calvin Klein line of apparel and accessories to Calvin Klein. It is hoped this will help unify the company.
"I believe that this rebranding, and the efforts we are taking to enhance our own bridge apparel and accessory offerings, will benefit the brand image and result in the enhancement and expansion of the Calvin Klein lifestyle," Tom Murry, chief executive officer of Calvin Klein, explained.
- COVER MEDIA