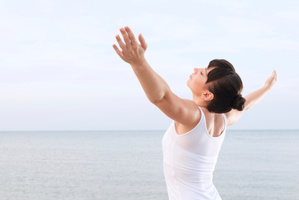 We're all doing it. All of the time. But are you doing it in the most enjoyable way? Are you getting the most out of your life with the best breathing practices?
Why does the way we breathe matter?
The way you breathe can make a huge difference to the way you live, according to breathing physiotherapist Dinah Morrison. She says subtle signs like sighing or yawning can mean that the balance between oxygen and carbon dioxide in your brain are out of whack, and you're not operating optimally. If you're able to master balanced breathing you'll feel more calm, have better brain function and more energy. Dinah, an author and expert at Breathing Works clinics in NZ, even says you'll be a "nicer person". Bad breathing indicates stress and ill health, so if you can get your respiratory function in shape, you might also be able to shake off these negatives.
How do you know if you're not the best breather?
• Are you breathing through your mouth?
• Are you sighing frequently?
• Do you have sore chest muscles?
• Do you get headaches or feel like you have a foggy brain?
• Do you feel unrefreshed even after a good night's sleep?
• Are you feeling stressed, anxious and just not yourself?
How can you improve your breathing?
You can up your breathing game right this second. Stop what you're doing and focus on your breath.
• Are you breathing through your nose? Your nose is the filter for all the air you're taking in. Dinah calls it the "air conditioner". So if all the O2 is being sucked in through your mouth you'll be getting all sorts of grime in your respiratory system.
• Relax your shoulders: Stop being tense, especially if you spend a lot of time behind a desk. Getting better blood flow to your arms and neck will free tension from your body. This should have you feeling more energised and less sore at the end of the day.
• Breathe softly and slow: When people think about breathing they breathe very hard, Dinah says. Chill out, don't overdo it, you'll feel more zen.
Have you ever thought about the way you breath? Do you have any strange breathing habits? Are there any health and wellness topics you'd like to know more about?
Follow Life & Style Editor Nicky Park on Twitter and Instagram.