Address:
158 Jervois Rd, Herne Bay
Phone:
(09) 360 0555
Rating out of 10:
Food: 7, Service: 7, Value: 8, Ambience: 7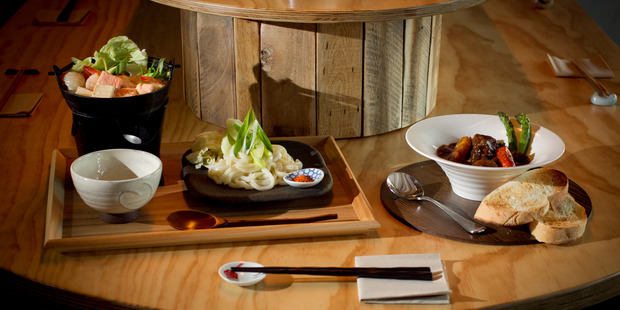 Here are a couple of experiences I never thought I'd embrace - a boeuf bourguignon served at a Japanese restaurant and a macrobiotic dessert. They were delivered at Janken and I enjoyed both.
This is one of the newest establishments on the Jervois Rd eating strip and is of the small and perfectly formed school, seating about 20 customers. Its decor is minimalist but not unpleasing, with a long wooden bench serving tables along one wall and one little communal table. This is well arranged, with a high centrepiece, so you're not looking into the dinner of the person opposite, although the communal approach can be a problem if your neighbour is, as mine was, wearing an aftershave that could kill at 50 paces. It didn't do much for the subtle tastes we hoped to enjoy.
The menu is intriguing, mostly Japanese with the usual sushi and tofu you'd expect, and their target market is pretty clear with the lavish use of the "organic" label. Their drinks list offers gluten-free, organic and low-alcohol beers, and their three wines are all advertised as organic.
But for the unreconstructed among us, there are other delights, among which was the grass-fed beef bourguignon, which was impossible to resist. It was described as Janken-style, but I'm not sure what that meant as the dish I enjoyed was a perfectly standard example that would have been recognised in any French bistro - good, slow-cooked beef in a rich red wine reduction, green beans, carrots and potatoes, served with a couple of slices of toasted bread.
One of our first courses was also a reversion to the beast, being an excellent tataki of thinly sliced seared beef garnished with a mizuna salad and a couple of nice dipping sauces, one soy-based and the other using the sharp, citrus edge of yuzu. Our other introduction to the Janken way was the dashimaki, slabs of Japanese omelette with salmon and leek, more substantial than I expected and with pleasing flavours. I have never understood the Japanese fondness for grated radish, which frequently has a hint of drainwater about it, but here the daikon garnish was enlivened by just enough pickled ginger.
Having opted for a French dish for one main, it seemed reasonable to go Japanese for our other. I steered away from the organic soy cream vegetable gratin and the Shojin-style organic tofu, and we chose the seafood miso nabe hotpot. This was a fragrant miso soup attractively served on a little burner and stuffed with salmon, prawns and other seafood and, inevitably, some organic tofu. It was fresh and tasty and came with good udon noodles, which you decant into the soup as the bits and pieces thin out.
The servings aren't huge, but we were full enough for the dessert to seem a bit of an indulgence. The chocolate cake (free of dairy products, eggs, white sugar and white flour) proved delicious - rich and moist, just like Granny didn't bake.
The whole offering has an elegant simplicity and the service is exactly what we've come to expect in good Japanese eateries: attentive, courteous and willing to engage with the customer. We left feeling rather cherished and contemplating a venture into their attractive lunch specials the next time we're in this neck of the woods. And, if Mayor Len fancies it, there's a bus stop right outside the door.


Our meal: $102 for two first courses, two mains, one dessert and green tea.
Our wine: We had excellent green tea as Janken's liquor licence hadn't arrived when we visited, but there is beer, sake and a small number of wines on the menu.
Verdict: Although very new, Janken - the name of which is the Japanese version of rock, paper, scissors - already seems to have attracted a mixed clientele wanting simple food with a touch of style in a pleasant setting.