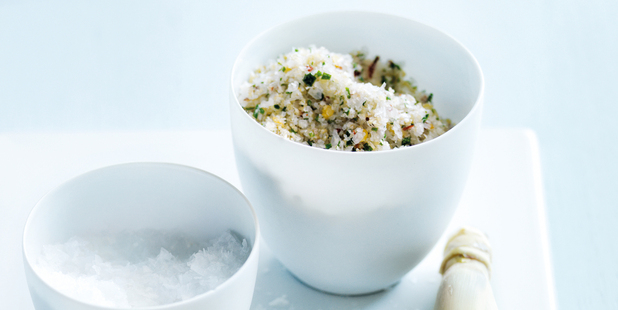 Kaffir lime, lemongrass and chilli salt. Photo / Donna Hay Magazine
One of the easiest ways to add a quick burst of flavour to some of your favourite meals is with a flavoured salt. Our Asian version is fragrant with kaffir lime and lemongrass, as well as spicy dried chilli, and it's just the thing to give fish or chicken dishes an aromatic boost. Keep it on hand in your pantry to add a touch of excitement to your weeknight repertoire.


Kaffir lime, lemongrass and chilli salt
Makes 1/3 cup
• 4 kaffir lime leaves, stems removed and chopped
• 1 stalk lemongrass, white part only, chopped
• ½ tsp dried chilli flakes
• 1/3 cup sea salt flakes
Place the kaffir lime, lemongrass and chillli in a small food processor and process until finely chopped. Add the salt and process until just combined.


Recipes
• Twice-cooked crispy chicken
• Salmon with Asian greens


Tips & tricks
• Kaffir lime, lemongrass and chilli salt will keep in an airtight container for up to 2 weeks.
• Sprinkle the flavoured salt over steak, barbecued fish, and roasted chicken for a burst of flavour.