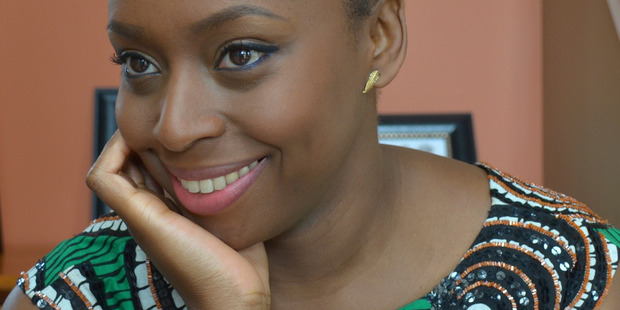 Americanah by Chimamanda Ngozi Adichie
(HarperCollins $42.99)


One of the more startling observations in a book filled with acute and startling observations is that Africans only really come to consider they are "black" when they go to the United States.
Ifemelu is a young Nigerian who is fortunate to escape the "choicelessness" of her homeland, where political corruption suppresses every kind of enterprise. She travels to the US where, after spending time in the wretched limbo that is the new immigrant's lot, she gets a break. Her natural talent does the rest. Soon, she's the writer of a much-read and well-regarded blog on race issues, from the perspective of an outsider to the whole morass of racial tension that is contemporary America.
It's a kind of folie a deux, as Ifemelu sees it, distorting the lives of black and white Americans alike, along with the lives of those, such as herself, who are absorbed into it.
In order to get a job, Ifemelu is forced to use "hair relaxers" to iron out the natural kink in her hair.
She finds herself adopting an American accent to ease the shock of her otherness for the locals. Eventually, she refuses, and it is her contact with the underworld of people of African descent who dare to let their hair grow naturally that opens her eyes to the many and varied ways in which the American mania for homogeneity warps and stunts its citizens.
Yet she is not wholly immune. She's just beginning to live the American dream when she decides, for reasons not altogether clear to herself, to close her blog and sell her condominium. She returns to Nigeria, where she finds herself inclined to make the same judgments based on superficialities that she despised in Americans. She has become an "Americanah", a Nigerian who has been stateside and returned to flaunt their superiority.
Americanah is a very fine novel. The plot is simple: in leaving Nigeria, Ifemelu is leaving behind the love of her life, Obinze. As she slips into depression on arrival in the US, she drifts out of contact with him. The reader spends the rest of the novel wondering how and if they will ever get back together.
The stuff of the novel, though, is Adichie's observations of the absurdities of the land of the free. She finds various clever ways of presenting these: directly, through Ifemelu's blog posts; indirectly, through her interactions with Americans and other immigrants living in the US.
It's all extraordinarily well handled. As you would expect from so acclaimed an author (she's a previous winner of the Orange Prize for fiction), Adichie writes character and dialogue beautifully. She's daring with chronology: she unflinchingly mixes time frames, and uses a technique where she will reveal details of a character's future before the reader has really got to know them in the present.
It's a surprisingly effective device - but it's also part of the only problem with the novel. By its end, it has become somewhat cluttered with a surfeit of barely relevant detail. Americanah is transparently a vehicle for the author to present her observations, but you sort of wish she had refrained from presenting all of them.
This is not to say that Americanah is dreary, soapbox fiction: on the contrary, it's a fluid, emotionally engaging read. You can't help but feel for brave, vulnerable Ifemelu, or for poor, desolate Obinze.
And Adichie has a feel for the moral complexity of individuals and situations. You want to grab Ifemelu and shake some sense into her. In many ways, that's the point: if it's possible to so badly stuff up the relationship of two people who were born for each other, is it realistic to hope that folks can get along when the problems and misunderstandings are writ on the scale of nations?