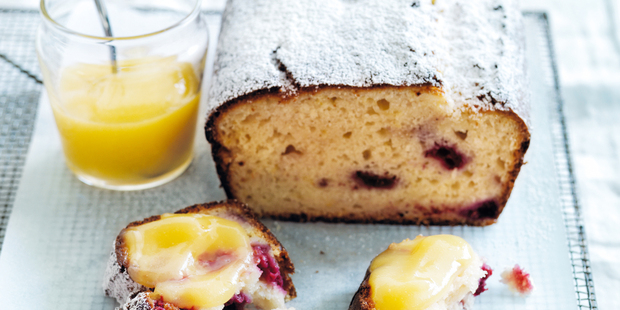 Raspberry and yoghurt loaf. Photo / Donna Hay Magazine
Serves 6-8
• 1 ½ cups plain flour, sifted
• 2 tsp baking powder, sifted
• 1 cup caster sugar
• 1 Tbsp finely grated lemon rind
• 1 cup frozen raspberries
• 2 tsp vanilla extract
• 3 eggs
• 1 cup thick Greek-style yoghurt
• ½ cup vegetable oil
• Icing sugar, for dusting
• Store-bought lemon curd, to serve


1. Preheat oven to 160C.
2. Place the flour, baking powder, sugar and lemon rind in a bowl and mix to combine. Add the raspberries and stir to combine.
3. Place the vanilla, eggs, yoghurt and oil in a bowl and whisk to combine. Add to the flour mixture and mix until combined.
4. Pour into a lightly greased 10.5 cm x 21cm loaf tin lined with non-stick baking paper and bake for 60-70 minutes or until cooked when tested with a skewer.
5. Allow to cool in the tin for 10 minutes before turning out on to a wire rack to cool.
Dust with icing sugar and serve warm or at room temperature with the lemon curd.


Tips & tricks
• Go blue: for a variation on the raspberry loaf, try adding frozen blueberries to the mixture instead.