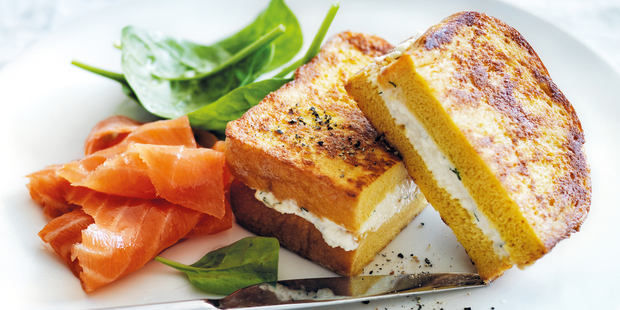 Lemon, dill and ricotta french toast with smoked salmon. Photo / Donna Hay Magazine
Serves 4
• 1 ½ cups ricotta
• 1 Tbsp finely grated lemon rind
• 1/3 cup dill, chopped
• Sea salt and cracked black pepper
• 8 slices brioche
• 3 eggs
• 1 ½ Tbsp milk
• 40g unsalted butter
• Smoked salmon slices and baby spinach leaves, to serve


1. Place the ricotta, lemon, dill, salt and pepper in a bowl and mix to combine. Spread 4 slices of brioche with the ricotta mixture and sandwich with the remaining brioche slices.
2. Place the eggs, milk, salt and pepper in a bowl and whisk to combine. Melt the butter in a large, non-stick frying pan over medium heat. Dip the sandwiches into the egg mixture and cook in batches for 2-3 minutes each side, or until golden.
3. Serve with the smoked salmon and spinach leaves.


Tips & tricks
• Keep warm: when cooking the french toast, place each cooked batch in a low oven to keep warm before serving. You can also serve these with smoked trout.