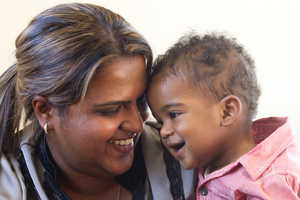 Arti Dzonge had to cut down on rice and roti when she was diagnosed with pregnancy-related diabetes.
The 31-year-old beauty therapist from Manurewa, South Auckland, said the diagnosis of gestational diabetes when pregnant with Joshua, now 11 months old, came as a shock.
"At first I thought I'm going to get diabetes [permanently] and my baby is going to get diabetes as well. That was my main concern. I didn't really worry about myself. I was more concerned for my baby if he can get diabetes.
"The baby was really precious to me. I could do anything for him; I could cut down the foods they told me not to eat."
Mrs Dzonge had to take diabetes pills, go for walks and change her diet to help control the disease, eating less starchy food and more fruit and vegetables.
"Being Indian, I normally eat a lot of rice and roti. I tried eating roti but my sugar level rushed up.
"I do love biscuits and chocolates and things like that but when I knew it would affect my baby I thought, 'nah, I'm not going there'."
She weighed around 67-68kg before she became pregnant, which she considered a little overweight, and had increased to 74kg when pregnant and the gestational diabetes was detected.
Joshua weighed 3.5kg when he was born - the national average for newborn boys - and is healthy.
Gestational diabetes ceases after pregnancy, but women who have had it are at increased risk of developing type 2 diabetes. Children of women who have the disease are at increased risk of obesity and type 2 diabetes.