A running regime that would defy most of us is soul food to Malcolm Law, writes Andy Kenworthy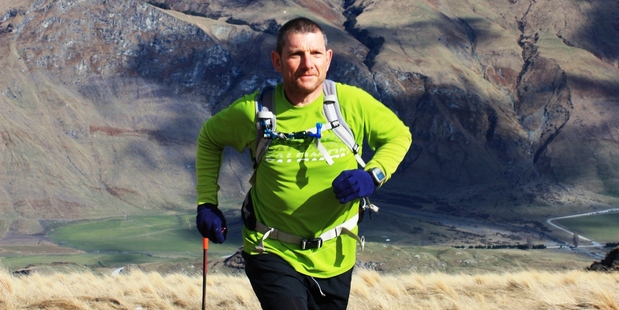 Sometimes I'm tempted to call Malcolm Law an outrageous liar. You might think this is because the feats of physical endurance he has completed - including becoming the first person to run New Zealand's seven mainland Great Walks in just seven days - defy the imagination. And this is even before you consider that they were completed while Law was in his late 40s and early 50s.
But there are lots of witnesses to this behaviour and his adventures are now the subject of his first book, One Step Beyond. So I have to believe him. The bit I find hard to believe is Law's assertion that he is an ordinary person who is not particularly athletically gifted.
"For the first five to 10 minutes of running I nearly always feel like crap," he says.
"So if I stopped every time I felt crap, I would never get going at all."
We are meeting in a cafe where Law is fuelling up with a beef pie. I have just signed on for what I expect to be up to five hours of mostly feeling like crap the following day - running the Mototapu-Rangitoto Traverse, a marathon distance run over hilly paddocks and mountainous lava fields.
I have done this course once before and trained as steadily as my schedule would allow for more than six months.
I still anticipate hobbling like a cowboy for several days afterwards. So the idea that this supposedly "normal" man who is 15 years older than me can do this and more, day after day for a week, is proving a bit hard to swallow.
Law traces his love of footslogging through high muddy places and his taste for adventure back to his upbringing in Britain. His father became one of the first few hundred people to reach the summits of all the 282 Scottish Munro mountains, and Law devoured books about heroes such as British adventurer Ranulph Fiennes.
But the main inspiration for the 7in7 Challenges came from his family's most tragic challenge, dealing with the death of Law's older brother, Alan, from leukaemia at the age of 13.
In his book, Law is candid about the effect the loss of his brother had on him.
"When the end came it was a total shock for me. I'd had no time to prepare for the inevitable and instead found myself plunged in at the deep end of grief. Over the 40 years that followed I managed to slowly edge my way towards the shallow end, but I never really climbed out of the pool altogether."
After moving to New Zealand in the mid-1980s Law broadened his passion for tramping into sporadic involvement in multi-sport events. The desire to test himself to the limit on foot came about after a particularly high number of overseas business trips drained his reserves.
"I found my thoughts drifting back in time to my earliest mountain memories, of times spent in the Scottish Highlands as a child," he says in his book. "This in turn took me back, as it so often does when I get nostalgic in this way, to that fateful holiday on the Outer Hebrides in the summer of 68. It took me back to the grief of losing Alan. Then it occurred to me: this crazy mission I was contemplating could be used somehow to honour his memory and raise money for a leukaemia-related charity ... I muttered the words, 'this one's for you, bro'."
And so the scene was set for this adventure and the ripping yarn that has now hit the shelves: the logistics, the training, the injury worries and finally the big week. It will not spoil the tale to tell you that he somehow managed to recruit enough sponsors, well-wishers and enthusiasts to not only get the job done but to do something very similar the year after, raising more than a $250,000 for the Leukaemia & Blood Foundation of New Zealand.
To get an understanding of what it takes to achieve something like this, you need to read the book. And, crucially, for Law's refusal to believe that he is extraordinary, he also wants you to read it so you realise that you, too, could do something as epic in your own life.
"I always thought my role in life was to read about other people doing this stuff, not being one of the ones who was doing it," he says. "That first 7in7 Challenge completely blew that apart and made me believe that actually I can live these adventures. That is what was life-changing about the experience for me.
"Anyone can get to where I am at, I believe, because I am fairly average in terms of the genetic level of athleticism that I have. Not everyone can race at the elite end of the field, because if you haven't got the right genes you won't, it's as simple as that. But if you want to get to the point I am at, where I could pretty much get out of bed and run a marathon if I had to any day of the week at a pace that I dictated, then anyone can get to that point. It's just a matter of putting in the time. But you only put in the time if you really love it. Otherwise it becomes a chore."
I want to believe him. I must admit that I am surprised at my own transformation from lanky sprat huffing and puffing at the very back of the school cross-country, to lanky adult huffing and puffing over mountain marathons - and finishing them. I also realise that the major part of that transformation has been the fact that I now really love running, which is not something they ever taught me at school.
But what about the people who say stuff like "I can't run, it makes my knees hurt"?
"I feel niggles a lot of the time," Law says. "When people say they are hurting they don't really know what kind of hurting they are feeling. Is it just a niggle, or something more serious?
"I think unless you really want to be a runner and feel the benefits to your mental health, the physical fitness and the other endorphin-fuelled rewards, then any pain you feel is going to be exaggerated in your mind and you will use it as a reason not to do it. If you really want those rewards I suspect you will live with it."
His latest solution has been to move from running insanely long distances and then doing no running at all for days, to challenging himself to a "streak", where he has to run at least 5km every day for as long as he can keep it up and then running long distances too. So far he has found the repetition good for reducing the feeling of strain.
"It's like having a car and only turning it over every six months. It struggles to start. But when you turn it over every morning, it's fine. If you never do any running and you try to run 5km around the block it is inevitable that you are going to feel pain."
But surely there is a quite a stretch between enjoying the odd jog though the park or even being a "one marathon a year" type like me, to taking on the sort of thing Law has done?
He admits he has been lucky to limit his training injuries to a couple of calf strains over the years, leaving aside the severe shin tendonitis he suffered after running more than 650km in 10 days on Britain's South West Coastal path.
In contrast I have had neurapraxia toe numbness, Achilles tendon inflammation, calf tears and knee-stabbing iliotibial band syndrome in just two years of doing only a fraction of the kilometres that Law runs.
He puts this more down to his approach than his genetics.
"I think if you are sensible about how often you push yourself really hard and do some good background maintenance work with Pilates and that sort of thing, then the body can sustain quite high mileage," he says.
"A lot of the time I am not even training, I am just out there running for the fun of it. Most of the people I talk to say that they get injuries when they up the amount of speed work or high intensity work. That is what tends to cause the injuries."
But surely, if he is claiming to be human, this has got to hurt. Why and how does he keep going?
"At times it is not the joy of it, it is sheer bloody-minded stubbornness," he says.
"There is ego on the line, you don't want to fail and be at the prizegiving the next day saying 'I didn't finish'. On the fundraising runs the cause provides a huge reason to keep going. It ends up with a lot of people supporting you and putting faith in you, so you don't want to let them down. But ultimately, the reason I run on trails is liberation, freedom, it's soul food to me. I feel a lot more connected with the real world, a lot less stressed and a lot more enriched from running."
So how far will Law go?
"I like to think my horizon will continue to shift away from me. It's about setting the goal further towards the horizon, as long as I have the fuel, the motivation and the interest. At some point I will take one step too far - which might be the title of the next book."


Malcolm Law's trails and trials
The 7in7 Challenge 2009 for The Leukaemia & Blood Foundation of New Zealand
Day 1: 42.7km - Lake Waikaremoana Great Walk, 8.5 hrs
Day 2: 41km - Tongariro Northern Circuit, 8.5 hrs
Day 3: 51.9km - Abel Tasman Coast Track, 9 hrs
Day 4: 78.4km - Heaphy Track, 13 hrs
Day 5: 32.1km - Routeburn Track, 7.5 hrs
Day 6: 53.5km - Milford Track, 10 hrs
Day 7: 60.1km - The Kepler Challenge, 10 hrs
Total for the week: 359.7km, 66 hours
The 7in7 Challenge 2010
Day 1: 42km - Twin Lakes Marathon (Hawea/Wanaka) 5 hrs
Day 2: 55km - Wilkin Circuit, 12 hrs
Day 3: 50km - Motatapu Gold, 14 hrs
Day 4: 42km - Wakatipu Wonderland - 9 hrs
Day 5: 67km - Rees-Dart, 13.5 hrs
Day 6: 54km - Greenstone-Mavora Walkway, 10 hrs running
Day 7: 60km - The Kepler Challenge, 9.5 hours
Total for the week: 370km, 73 hours
The Coast Path Run 2012
17 days and 1014km over the footpaths traversing England's undulating south-west coastline, with a total of 35,000m of ascent - the equivalent of four
Mt Everests.


• One Step Beyond: how an ordinary man took on the ultimate running challenge and won (Penguin $30) is out now.