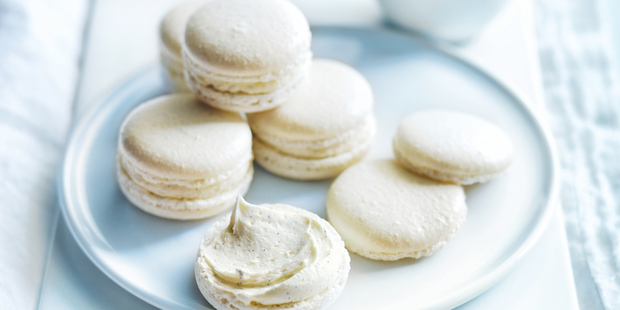 Makes 24
• 1 ¼ cups pure icing sugar, sifted
• 1 cup ground almonds, sifted
• 3 egg whites
• 1 Tbsp caster sugar
Vanilla buttercream
• 60g unsalted butter, softened
• 1 vanilla bean, split and seeds scraped
• ½ cup pure icing sugar, sifted
Tip: You can use ground hazelnuts or pistachios instead of almonds. Simply process the whole nuts in a food processor until finely ground.


1. To make the buttercream beat the butter and vanilla with an electric mixer for 6-8 minutes or until pale and creamy. Add the icing sugar and beat for a further 10 minutes or until pale and fluffy. Place the mixture in a piping bag and place in the fridge until needed.
2. Preheat oven to 150C. Sift the icing sugar and ground almonds into a bowl and mix well to combine. Set aside. Whisk the egg whites on high with an electric mixer for 30 seconds. Add the caster sugar and whisk for a further 10 minutes or until very stiff peaks form.
Fold through the icing sugar mixture, in 2 batches, until smooth. Place the mixture into a piping bag fitted with a 1.5cm nozzle.
3. Pipe 48 x 4cm rounds of the macaron mixture on to baking trays lined with non-stick baking paper. Allow to stand for 20 minutes. Reduce temperature to 130C and bake for 17-18 minutes or until crisp on the outside and chewy in the centre. Allow to cool on the trays. To assemble, pipe the buttercream on half the macarons and sandwich with the remaining macarons.


Tip: Draw 4cm circles on to the non-stick baking paper with pencil. Pipe the macaron rounds on the trays, using the circles as a guide.


Variations
Ginger & chai: Add ¼ tsp ground ginger to the basic macaron mixture. Add ¼ tsp mixed spice, 1 tsp cinnamon and ½ tsp ground ginger to the buttercream.
Pistachio & chocolate: Substitute ½ cup ground almonds in the basic macaron mixture for pistachio meal. Add 1 Tbsp cocoa powder to the basic buttercream mixture.
For more recipes visit the Donna Hay website, www.donnahay.com.