So, you think your child's funny? Danielle Wright talks to the kids comedy industry to find out how you can encourage your children to make people, other than their mum and dad, laugh.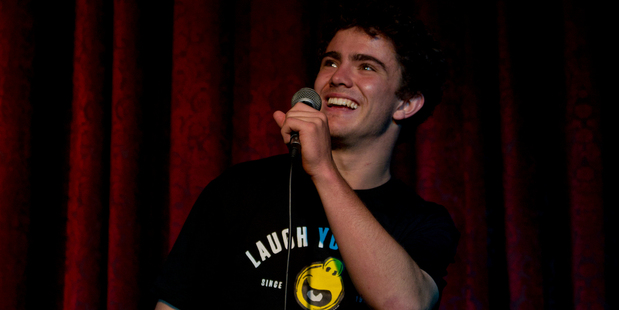 Very young children are natural comics. Somewhere along the way to adulthood that instinct to make people laugh often gets replaced by not wanting to look foolish. Here's our pick of comedy classes to keep the laughs alive:
The class comedians
Eight budding comedians sit quietly working away at The Classic in Queen Street. They're learning stand-up, improvisation, characterisation, performance and writing, as well as marketing skills such as designing posters, creating a persona and various stints at television and radio stations.
The course aims to 'teach funny kids how to do it proper'. It's an initiative of the New Zealand Comedy Trust and is a three-month programme from scouting workshops in schools, followed by after-school workshops.
Twenty-five teenagers are then chosen for an intensive two-month training programme and the chance to perform as part of the New Zealand International Comedy Festival. And it's free. No joke.
Tutor and acclaimed comedian Nick Rado clearly loves his job and is enthusiastic about the kids' talents, making us all laugh re-telling one student's observations on a Tip Top factory tour.
Nick says he first wanted to be a stand-up comic after getting in front of his class and loving talking about even the most dry subjects, like rainfall in Vanuatu.
He suggests getting the kids up and in front of any group chatting is a good start and includes theatre sports and debating as ideal options.
In life, people do better in things they're most excited about so natural talent isn't as important as enthusiasm for comedy and a good work ethic, says Nick.
The first day on the course is when Nick learns about the kids, and they learn about themselves what they want to bring out of their personalities on stage and finding their point of difference.
After that, it's honing their skills, giving tips and pointers and learning everything from how to make sets flow and link up, microphone techniques, structure and pace, as well as learning how to deal with stage fright.
We make sure everyone has a round of applause so they get used to that sound, but we also have a heckling afternoon and they learn how to deal with that it's a really fun one, says Nick.
Stand-up comedy makes you good at public speaking and feeling better about yourself, says Nick.
Julia Holden, who went through the Class Comedians, is the only girl from her year that is still doing comedy.
It's a bit intimidating for a young girl to go into comedy, says Julia. A lot of guys mistake being funny for being loud.
I've always been the funny one among my friends, I like to make people laugh, says Julia. It's cheap therapy really and sorts out your problems. Although a therapist doesn't necessarily laugh at you.
If you've died on stage, you know what bottom is. Nothing's hard after that.
• See this year's graduates perform on Saturday 18 May at 3pm at Rangatira at Q, 305 Queen Street, Auckland. Tickets are $15-25 available on 09 309 9771, classcomedians.co.nz.

Clowning
"People don't take humour seriously enough," says Jean-Phillippe Janin, who spent three-years in France training intensively to become a clown. "Honestly, who never wanted to be a clown and make the world laugh? Clowning class is always something children love and it's no secret children are more creative and imaginative than adults so the classes are extremely fun."
"The classes also boost confidence and self-esteem, enhance interpersonal skills and there are also many therapeutic effects," says Jean-Phillippe. "There's also an element of acrobatics, drama, unicycling and juggling, which is known as the magic potion of wellness. Only when you start juggling will you understand."
• Le Cirque de JP Juggling, includes clowning skillls and circus arts for 7-12 year-olds, Mission Bay Fridays 3.30pm-4.30pm , telephone 021 182 2284 lecirquedejp.com.

Theatre sports
Theatre Sports is a genre of improvised theatre created by Keith Johnstone in the 70s in Calgary. It came to New Zealand in 1987 and by all accounts spread like wildfire and has been in schools for the last 23 years.
There are usually 2-4 teams on stage, musicians, an MC and a set structure with various props such as bells and horns to save team members getting stuck on scenarios. If you've ever watched Whose Line is it Anyway, you'll be familiar with the format.
Kids learn a freedom of expression, a sense of trusting their friends on stage, as well as having the confidence to explore an idea and create a story with little detail, says President of the Con Artists board Geoffrey Dolan. It's an excellent way to entertain yourself without scripts and sets.
Oliver Driver, Craig Parker, the late Kevin Smith and Madeleine Sami have all trained in theatre sports. It's not everyone's cup of tea though and some stand-ups hate theatre sports, and vice versa.
People either love it or hate it. Either way, there's no denying it teaches people to use their imaginations and develop storytelling skills, as well as building confidence and the ability to communicate better, says Geoffrey. If you've done theatre sports it becomes easier to spark a conversation anytime.
• Con Artists run a youth programme in schools. For details visit conartists.co.nz.

The cartoon and claymation workshop
For after-school and holiday programmes in cartooning and claymation visit McLeay Workshops website www.thecartoonworkshop.co.nz, for courses all over Auckland.
If you have a shy, comedic genius, get their confidence up by getting them to create humour off-stage, such as at a cartoon or claymation workshop.
We get them to make their own characters out of plasticine and then create sequences, such as characters fighting over popcorn on a claymation couch, says tutor Guy Capper, who's been teaching claymation for sixteen years.
Kids now have more independence with equipment at home, so we're really showing them how to make their own short films at home, says Guy. It's a good entry into film-making without the time and money constraints of creating a short film. No matter what, you'll have a finished film at the end of a claymation course.
Kindergarten-aged kids always crack us up, but the older we get the mind edits out much of that natural humour, says Guy, who is always impressed by the imagination of the little sculptors.
The tactile elements of claymation are also what makes it great, says Guy. Cartooning is more challenging because of the consistency of the drawing needed, but there are always surprises in claymation where you get something realistic looking by accident. Kids love to make something from scratch and watch it come to life.Online inspiration
Talk to any comedian and no doubt they will have their favourite websites and YouTube comedy channels. There are even young stand-up comedians on the internet - lots of hilarious 10 and 11 year olds. They still have so much confidence and usually poke fun at their parents, instead of at themselves.
Comedy is so subjective, says Guy Williams. Learning online is great for teenagers who can't go to over-18 shows but who want to learn what they do and don't like.Comedy shows for kids
Everyone has something funny about them, says comedian Guy Williams (Jono and Ben at Ten). You don't need natural stage confidence. Stand-up comedy is a great way to conquer that fear.
Guy recommends going to see lots of comedy shows and admits that's not always easy when you're under the drinking age, so getting along to the all ages Comedy Festival events is a good place to start. Here's what's on offer:
Stand Up For Kids is performed on Sat 4, 11 and 18 May at 3pm at Loft at Q, 305 Queen Street, Auckland. Tickets available from 09 309 9771. It's billed as 'big laughs for little monsters' and includes magician Jarred Fell. It's perfect for the littlest comedians in the house.
For those a bit older, around 14-17 years of age, there's a new show: The 5PM Project, hosted by Guy Williams. It's on the last Friday of the school holidays, 3 May at Rangatira at Q, 305 Queens Street, Auckland. Bookings from 09 309 9771. Jarred Fell, Steve Wrigley and James Nokise are also part of the line up.
Last year's Class Comedians are putting on their 'Grad show'
2012 Graduates In Underage, Enraged And Uncaged from Thu 2 - Sat 4 May at 5pm. They promise to have us ROFLing (Rolling on Floor Laughing) in the aisles.