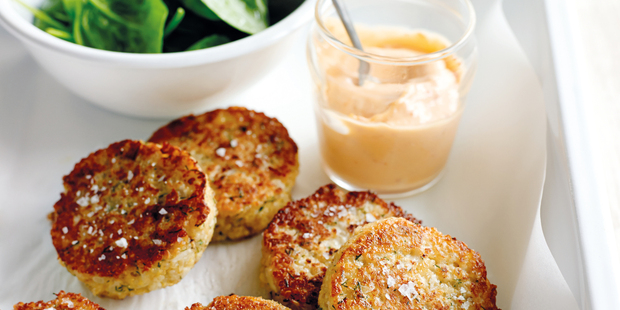 Serves 4
• 1 cup white quinoa, rinsed
• 1 ½ cups water
• 1 cup ricotta
• 200g cauliflower, finely chopped and steamed
• ½ cup finely grated parmesan
• 2 Tbsp finely chopped dill
• 3 eggs, lightly beaten
• Sea salt and cracked black pepper
• 2 Tbsp olive oil
• Spinach leaves and chilli-flavoured mayonnaise, to serve


1. Place the quinoa and water in a medium saucepan over high heat and bring to the boil. Reduce heat to low and cook, covered, for 12-14 minutes or until all the water is absorbed. Remove from the heat and allow to stand, covered, for 5 minutes to cool slightly.
2. Place the quinoa, ricotta, cauliflower, parmesan, dill, eggs, salt and pepper in a large bowl and mix to combine. Shape a 1/3 cup of the mixture, at a time, into fritters and refrigerate for 20 minutes.
3. Heat the oil in a large frying pan over medium heat and cook fritters in batches, for 3-4 minutes each side or until golden.
Serve with the spinach leaves and mayonnaise.


Tips and tricks
To buy: Quinoa is not a grain but a seed. It can be used in much the
same way as rice or couscous, is high in protein and also gluten-free. You can find it in most supermarkets.
For more recipes visit the Donna Hay website, www.donnahay.com.