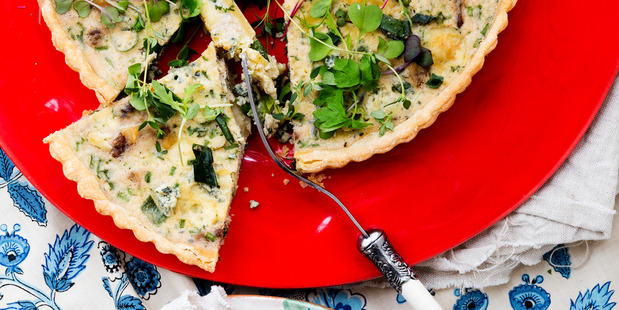 Serves 6
• 200g short pastry, or 2 sheets bought
• 1 Tbsp butter
• 4 spring onions, sliced
• 2 cloves garlic, crushed
• ½ cup chopped herbs thyme, tarragon, parsley or chives
• 200g ricotta
• 100g blue cheese, crumbled
• 4 eggs
• ½ cup cream or full-cream milk
• ½ cup walnuts, chopped
• Salt and pepper, to taste

1. Preheat oven to 180C. Line a 22cm tin with pastry and bake blind. While that is baking prepare filling.
2. Heat butter in a frying pan and add spring onion and garlic. Cook for 2 minutes until soft but not brown.
3. In a medium-sized bowl mix herbs, ricotta, blue cheese, eggs, cream, spring onions and walnuts. Mix until well combined. Pour filling into tart shell.
4. Place in oven for 30 to 40 minutes or until set. Serve warm and with a side salad.

- VIVA