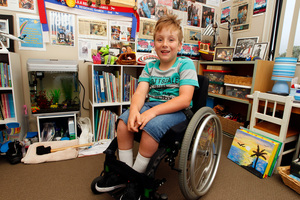 Eight-year-old Jaden Movold has always helped others, despite suffering the most severe form of spina bifida. But family friend Alex Couling thinks it's Jaden's turn to receive.
Jaden, a pupil at Huapai District School, is wheelchair-bound and has endured 18 major surgeries to straighten his spine with the help of two titanium rods.
The medical ordeal has not stopped him from competing in triathlons, breakdancing or hitting the streets with a bucket to help raise money for others in need.
Jaden has helped major fundraising campaigns for Starship Foundation, StarJam and Riding for the Disabled.
In 2011, his efforts took him to Las Vegas where he was a VIP guest at Justin Timberlake's concert.
His mother Lise Baldwin said he met major celebrities including Timberlake, comedian Wayne Brady and music group Sister Sledge. "Jaden got to perform and rap with Vanilla Ice on stage," Baldwin said. "He was the highlight for a lot of these artists, it was really interesting."
She said her son was like any other boy and loved exploring the outdoors. But his wheelchair did not allow him to go on rough terrain.
Jaden needs a motor, worth about $8000, which can be attached to his wheelchair.
"We're looking for some kind of motor or a separate chair that allows him to go on a walk in the bush and be able to access all areas of the community."
Couling, a physiotherapist, said the motorised wheelchair would give Jaden independence.
"It is the things we take for granted every day, like walking on grass, well, he needs to be pushed," Couling said. "This will enable him to achieve whatever he wants. He does a lot of work for others so it is only fair people give back to him as well."
Couling has entered the annual Tough Guy and Gal Challenge, and dedicated her 30-strong team's fundraising efforts to Jaden.
Donate: http://www.givealittle.co.nz/cause/JadenMovold