Jump of 30 per cent in local cider sales follows world trend for more variety, helped by our long, hot summer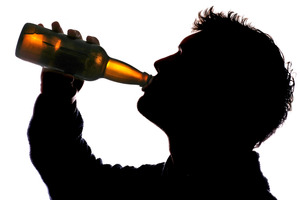 Cider is no longer the poor relation to beer - the beverage has seen a 30 per cent increase in sales.
The rise last year has been attributed to an increasingly varied market and women choosing cider over beer.
While cider accounts for just one in 28 alcoholic drinks consumed in New Zealand homes, the fizzy fermented fruit juice had its third straight year of growth in 2012, according to Nielsen's The Year That Was report.
Cider's increasing popularity follows its international trend as a trendy tipple, alongside craft beer.
Steve Shute, manager at Sale St super-venue which had a cider event every Sunday over summer, said the drink got a lift in 2008 when Monteith's Apple Cider was released.
"It used to be quite a feminine drink, especially the Rekorderlig, which comes in a nice glass with fruit and a straw, but there are also a lot of men who drink it out of a pint."
Mr Shute said the long, hot summer had helped sales as people quenched their thirst.
General manager of the Redwood Cider Co, Russell Browne, said the quality of locally produced cider was also driving its popularity.
In the first quarter this year, the cider arm of DB Breweries had seen 50 per cent growth in its cider sales. It carries the Monteith's, Rekorderlig, Johnny Arrow and Old Mout brands. "It's really the fruity varieties that are driving it on," he said.
Liz Read, spokeswoman for Lion Nathan which produces Isaac's cider, said the growth in the cider market was symptomatic of a general consumer trend of having more variety.
"People used to be 'just a wine drinker' or 'just a beer drinker'; now consumers tend to have more options in their choice set."
But although cider was experiencing growth, Ms Read said it was still a very small proportion of the alcohol industry.
The growth in the cider market also follows an international trend. A US alcohol report released last year showed cider consumption there had risen by 31.3 per cent, almost the same increase as in New Zealand. Stephen Glancey, the boss of Dublin-based C&C Group which sells two of the world's biggest brands in Magners and Gaymers, told Bloomberg last year cider was a "unisex beer".
"Cider's a growth story because of the demographics - it's sweet, it's natural, it appeals to the Coke generation," he said.
The Nielsen's report found new brand launches helped the craft beer segment grow by more than 10 per cent last year. In July, Independent Liquor, which owns Asahi, entered the craft market with its Boundary Road range of beers. And DB reopened its Monteith's brewery on the West Coast after a $4 million overhaul, with operations streamed towards smaller batch brews.
The craft market accounts for about 10 per cent of 300 million litres of beer made in New Zealand a year.

Drink of choice
• 30 per cent - increase in sales
• 500ml - bottles popular
• 4 per cent - alcohol content