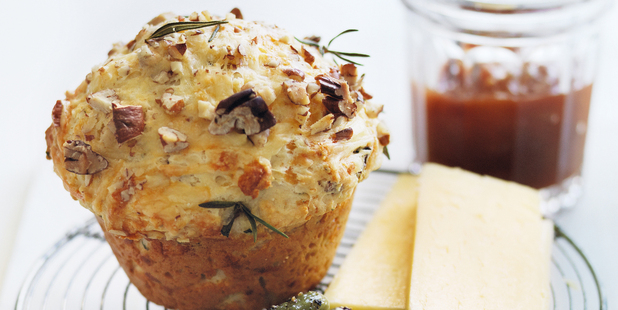 Makes 6
• 3 cups self-raising flour, sifted
• 1 tsp sea salt flakes
• 1 Tbsp finely chopped rosemary, plus extra sprigs, to serve
• 1 ½ cups grated vintage cheddar
• 1 cup grated mozzarella
• ½ cup roughly chopped pecans
• 2 eggs
• 1 ¼ cups buttermilk
• 80g unsalted butter, melted
• Sliced cheddar, cornichons and tomato chutney, to serve

1. Preheat oven to 180C. Place the flour, salt, rosemary, 1 cup cheddar, mozzarella and ¼ cup pecans in a bowl and mix to combine. Make a well in the centre, add the eggs, buttermilk and butter and mix until just combined.
2. Spoon into 6 x ¾ cup-capacity lightly greased muffin tins and sprinkle with the remaining cheddar, pecans and extra rosemary sprigs. Bake for 25-30 minutes or until cooked when tested with a skewer. Allow to cool in tins for 5 minutes.
3. Serve with sliced cheddar, cornichons and chutney.
For more recipes visit the Donna Hay website, www.donnahay.com.