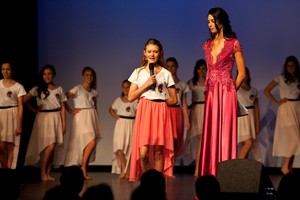 Heels and gowns mixed with laughter and inevitable tears last night at the inaugural Miss Junior New Zealand final.
Twenty-two girls aged from 10 to 17 took to the stage at Avondale College in Auckland for the competition set up last year by Miss World New Zealand, Collette Lochore.
The pageant was judged over two divisions - one for girls aged 14-17 and the other for ages 10-13. Four categories for judging included "Beauty with a Mission", "Feeling Fab" and "X Factor". The girls were also appraised for attitude, talent and sport and were interviewed.
The show kicked off with the 22 girls walking and introducing themselves to the judges. Six girls chosen in a pre-judging two weekends ago performed their "talent" for the audience. All 22 girls also took part in a song routine.
The girls were assessed by five judges who included Amanda Bransgrove from Catwalk Studios and the current Miss Teen Universe New Zealand, Vanessa Umugabkazi.
The competition has drawn criticism for including pre-teen girls and emphasising appearance. Lochore said the show was a celebration of "inner beauty" and taught confidence and life skills.
Avianca Bohm, 22, who was stripped of the Miss Universe New Zealand title because she wasn't a New Zealand citizen, said pageants could be good for girls but she didn't agree with all of them.
"There are some that are just about money. They choose the prettiest girl as the winner just so they can push their brand," she said.