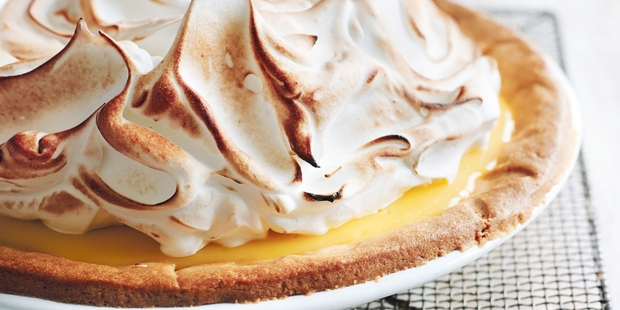 Serves 6-8
• 1½ cups plain flour, sifted
• ½ cup icing sugar, sifted
• 125g unsalted butter, chilled and chopped
• 2 egg yolks
• 1 Tbsp iced water
Lemon filling
• 1½ cups milk
• 1 cup caster sugar
• 1/3 cup cornflour
• 80g unsalted butter, chopped
• 2/3 cup lemon juice
• 2 Tbsp finely grated lemon rind
• 6 egg yolks
Meringue icing
• ¾ cup caster sugar
• ¼ cup water
• ¼ tsp cream of tartar
• 2 egg whites, at room temperature

Step 1
1. To make the sweet shortcrust pastry, process the flour, icing sugar and butter in a food processor until the mixture resembles fine breadcrumbs. With the motor running, add the egg yolks and iced water and process until the dough just comes together. Turn on to a lightly floured surface and gently bring together to form a ball. Flatten into a disc, wrap in plastic wrap and refrigerate for 1 hour.
2. Roll the pastry between 2 sheets of non-stick baking paper to 5mm-thick. Preheat oven to 160C. Line an 18cm pie tin with the pastry, trim the edges and prick the base with a fork. Refrigerate for 15 minutes or until firm.
3. Line the pastry case with non-stick baking paper and fill with uncooked rice or baking weights. Bake for 15 minutes, remove the paper and weights and bake for a further 20 minutes or until the pastry is light golden. Remove from the oven and set aside.
Step 2
1. To make the lemon filling, place 1 cup milk and the sugar in a medium saucepan over medium heat and whisk until the sugar is dissolved. Bring to the boil. Place the cornflour and remaining milk in a small bowl and stir to combine.
2. Pour into the milk and sugar mixture and whisk to combine. Add the butter and whisk until melted and combined. Add the lemon juice, lemon rind and egg yolks and cook, whisking continuously, for 3-4 minutes or until thickened.
3. Pour immediately into the pastry shell, smooth the top with a spatula and refrigerate for 2 hours or until set.
Step 3
1. To make the meringue, place the sugar, water and cream of tartar in a small saucepan over high heat and stir with a metal spoon until just combined. Bring to the boil, reduce heat to low and cook for 3 minutes.
2. Place the egg whites in an electric mixer and whisk until soft peaks form. While the motor is running, add the sugar mixture in a thin and steady stream and whisk for 1-2 minutes or until thick and glossy.
3. Spoon the meringue over the lemon filling and grill under a preheated hot grill for 30-60 seconds or until golden.

Tips and tricks
Handle with care: If the dough is too soft after rolling, simply place it in the fridge for 5-10 minutes or until it is firm enough to handle.
Fast food: Be sure to start making lemon filling only after the pastry shell has been cooked, as you'll need to pour it into the shell straight away.
For more recipes visit the Donna Hay website, www.donnahay.com.