The idea of a time capsule in a bottle encapsulates a unique perfume business reawakening history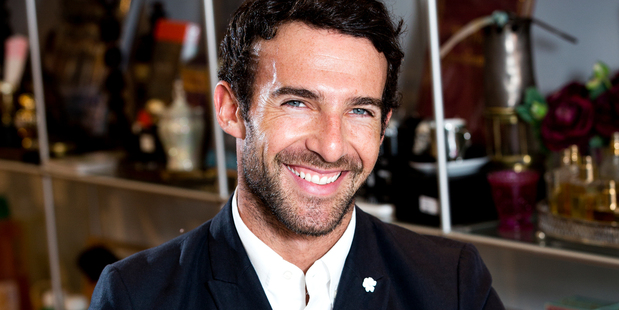 Carlos Huber is a proud Mexican, but the self-proclaimed Francophile and entrepreneurial New York resident is as far removed from the Latino stereotype as you could imagine.
Nattily dressed in a sharp navy suit, his pale complexion and steely eyes reveal his European heritage and his thoughtful speech the mind of a trained researcher, but his passions flare on the subject of his much-maligned homeland.
"Coming from Mexico you become extremely protective of it, like waving a banner ... if people were just a little more aware that, no, you're not going to get chopped into pieces when you visit. You're going to find it extremely friendly and lovely and civilised and modern."
Its mix of ancient ruins, bustling cities and bountiful raw ingredients have helped steer his career choices: from architecture, with a focus on historic restoration, to founding his own boutique perfume brand drawing on memories of the aromas he both grew up with and imagined from times past.
Add into the mix his sojourns studying in Paris and working in Spain and his Jewish ancestry from Poland, Russia and Switzerland and it makes for an eclectic potpourri of inspiration.
"Scent is a time capsule, it transports us to another time and place," says Huber. "The reason that I like history is that it has a relevance, it has an emotion to me." It recalls - bottles if you like - environments and landscapes that are now forever physically gone.
His Arquiste fragrances, which he launched in New Zealand last week, run the gamut from Italy in 1175 to Paris at the end of the 19th century, with stop-offs in Mexico, on the French-Spanish border and in St Petersburg. Each of his seven scents tells a story of its time, but is designed to be evocative rather than a literal recreation of old world odours.
Huber is not a purveyor of the sort of niche fragrance that glorifies in weird aromas, rather he has grounded Arquiste in the classic traditions of French perfumery, with help interpreting his vision from a leading "nose". The work of his fledgling company, launched just a couple of years ago, is winning accolades and is stocked in stores including Harrods, Liberty of London and Barneys, New York.
After a chance meeting with a representative from Cire Trudon when they were both waiting to present to Neiman Marcus, Huber was invited to become the first outsider to develop a fragrance in collaboration with what is the world's oldest candlemaker. This has yielded the Merida candle, with lush guava notes redolent of Mexico.
The back story is typical of Huber's approach. He meticulously researched the life and times of Empress Carlota of the short-lived Second Empire. The Belgian-born Princess Charlotte adopted the Spanish version of her name and was the first European woman to visit Mayan sites in Yucatan. In 1865 she stopped off in the town of Merida and wrote of staying in a quinta (country villa) with a courtyard guava tree laden with fruit. This reference was enough to get Huber's creative juices flowing when her read her letters to her beloved husband Maximilian. (The Austrian-born Archduke was installed as a puppet ruler and then abandoned by the French and later executed. Carlota was in Europe by then, where she had gone to try to rally support for him. She suffered a mental collapse and died in a castle in Belgium 60 long years later.)
Each Arquiste fragrance comes with a booklet explaining its origins. Anima Dulcis was inspired by the ruined Mexican convent of Jesus Maria re-imagined in its heyday with kitchens of steaming cocoa and spices. The floral-infused scents, called Fleur de Louis and Infanta en Flor, reflect the border meeting of Louis XIV and his Spanish bride Maria Teresa. Huber dug out inventories of this interchange in a Paris library.
But you don't have to be a history buff to enjoy the approach. Huber wants his fragrance to be first and foremost "beautiful". While, he says, "some people will get all of it," relishing the history and design, others, he hopes, will approach out of simple curiosity and respond because they find something "honest and authentic".
"Good perfumes make you emotional, make you want to know more."
Each fragrance must therefore tell a believable story and each is personal to him.
The citron prized in early Jewish communities is an influence on L'Etrog, his desire to develop a gardenia scent a man could wear is reflected in Boutonniere.
"I want to build something permanent that lasts, that you can interpret like a building, that will mean different things for different generations. Something that tells a story." says Huber. He sees fragrance as an extension of his architecture theory and training in preservation and interpretation. Asked if he misses working in 3D, he says, "I do, in fragrance."
His own life as an architect was trucking along nicely in New York where he first went to do graduate studies at Columbia University. A job at the in-house architecture service of Ralph Lauren saw him develop store interiors, often in heritage buildings, but he realised he missed research and wanted a new outlet, so the idea for Arquiste was born. It's a made-up word, he explains, road tested among friends to work in the languages he is familiar with and comprising elements of the words and worlds he revels in: that is architecture, art, history and things exquisite.
He took perfume classes and found a mentor in respected "nose" Rodrigo Flores-Roux, the Mexican-French creator of Clinique's Happy. They came together thanks to an initial introduction from a friend who works for perfume-making giant Givaudan. Huber does his months of research and presents a brief to Flores-Roux, then over many more months they realise the vision.
Huber is in no hurry to rush new fragrances to market, but he is quick to point out that not all his ideas are from centuries ago. He is toying with creating a 1970s-inspired scent, based on a friend's story of his parents hooking up in Ibiza. Huber lived on the island for six months, hiking its red earth and inhaling the lavender and rosemary, Cyprus and pines. He likes the thought of conjuring up images of a German girl, doused in the patchouli oil of the time, meeting a local lad. Another idea is 40s-based, triggered by memories of his grandfather and the clothes he wore.
Huber's earliest personal fragrance memories are family trips to the forests north-west of Mexico city; of chimneys, pine trees and horses. City flower kiosks and food markets loom large, as does the smell of corn starch and bread dust from fresh tortillas. He still loves a popular and cheap Mexican orange blossom splash and thinks perhaps he might make eau de cologne one day.
"There's always a part of me trying to reclaim the past, of something that was dear to me."
He is also keen to do his bit to enhance his country's international repute. Naturally this ambition has olfactive overtones. "Mexico is such a source of raw materials that have transformed what perfumery is about and yet nobody knows about it." He explains that it has given the world much, including flowers and spices often considered to belong to other cultures. Examples include frangipani and tuberose, known as nardos in Spanish, and central to many fragrances. Then there's the chilli and other spices carried to Asia by the Portuguese and Spanish.
During Huber's five days in New Zealand he found a distinct olfactory footprint. A run in the Auckland Domain was about "rain, earth, the sea and things very, very green, very much alive, with fleshy plants". A walk on Waiheke resulted in photos on his iPhone of interesting bushes and flowers. "I'm smelling a place and thinking can I bottle that?" But there will be no eau de Auckland, not on such a fleeting acquaintance.
"I don't want it to be a souvenir, it has to be a little deeper."
• Arquiste is stocked exclusively in New Zealand at World Beauty stores.
- VIVA