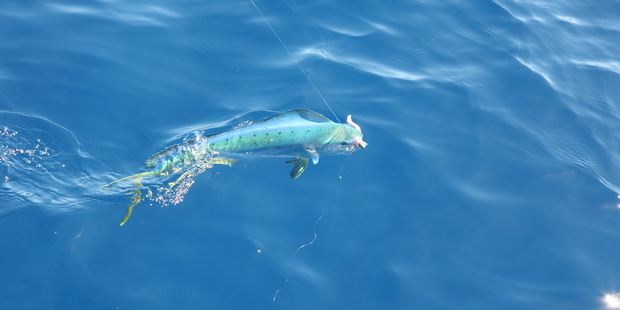 A rare tropical visitor has turned up off the west coast and game fishermen are taking home one of the best eating fish in the sea.
It is the colourful mahimahi, or dorado as it is called in the Atlantic Ocean. They are also found throughout the South Pacific, and occasionally follow the warm ocean currents that bring the marlin, tuna and other game fish to our coasts every summer. In the Pacific Islands mahimahi are highly prized table fish and fresh fillets pan-fried with coconut oil command high prices in Hawaiian restaurants. They can be caught on small tuna lures, but will also take soft baits which are cast out and retrieved close to any object floating in the ocean. Mahimahi like to hang around logs or other flotsam like boxes or pallets that gather barnacles and attract small fish as they travel on the currents. When hooked on light tackle they are very active, jumping freely. One method of catching mahimahi in the islands is to chase them in fast boats, with the fisherman standing in the bow and driving with a long attachment on the outboard motor. The fish don't dive deep and they are chased until they tire, when the angler uses a long spear to secure his catch. It is an exciting experience, racing across the waves in a small, fast runabout.
This summer has been a bumper one for marlin off the west coast, and some large specimens are still being hooked.
Kingfish are also providing good fishing, with some large fish caught off Ruthe Passage, Maria Rock and the reef at Crusoe Rock.
Snapper are moving out into the Hauraki Gulf and large concentrations are reported from the Firth of Thames, right up into the shallows. In fact, water of only 3m is still fishing well around Auckland, with anglers casting floating baits off Eastern Beach and Maraetai. This type of fishing is well suited to small dinghies or kayaks, and berley is essential.
FreshwaterFishing on the lakes has generally been quite hard. Some of the best results in the long weekend came from jigging on Lake Tarawera, with small, green smelt flies at 20m. Deep trolling was also productive, particularly with downriggers; while fly fishermen are waiting for water temperatures to drop and rain to put fresh water into streams.
Bite timesBite times today are 9.50am and 10.15pm, and tomorrow (end of daylight saving) at 9.40am and 10pm. These are based on the moon phase and position, not tides, so apply to the whole country.
Tip of the weekWhen casting floating baits for snapper in shallow water a half pilchard or small squid is an ideal bait, rigged with two 5/0 beak hooks tied directly to 6kg line. Light tackle and no heavy trace work better than the heavier gear used to drop sinkers in the cannels, and soft bait spin rods are well suited for this work.
More fishing action can be found on Rheem Outdoors with Geoff, 6.30am Saturdays, TV3.