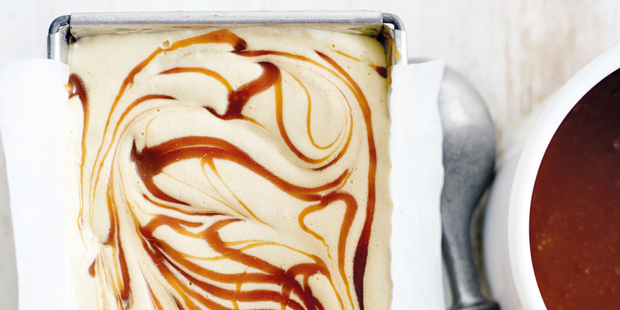 Salted caramel semifreddo. Photo / Donna Hay Magazine
Serves 6-8
• 3 eggs
• 2 egg yolks, extra
• 1 tsp vanilla extract
• 1 cup brown sugar
• 2 cups pouring cream
• 1 x quantity salted caramel

1. Place the eggs, extra yolks, vanilla and sugar in a heatproof bowl over a saucepan of simmering water. Beat with an electric beater for 5-6 minutes or until thick and pale.
2. Remove from the heat and beat for a further 5-6 minutes until cool. Place the cream in a separate bowl and beat until stiff peaks form.
3. Gradually fold the egg mixture into the cream until just combined. Add 1 cup of the salted caramel and use a knife to swirl it through the egg mixture.
4. Pour into a 2 litre-capacity metal tin and place in the freezer for at least 6 hours or overnight. Drizzle with remaining salted caramel to serve.