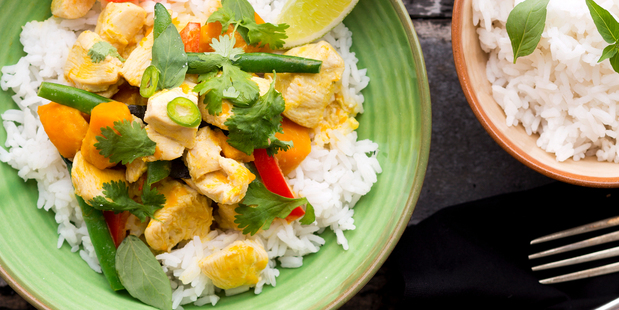 Serves 4
• 3 cloves garlic
• ¼ cup lemongrass, chopped finely
• 1 Tbsp ginger, grated
• 1 tsp shrimp paste
• 2 Tbsp peanut oil
• ½ tsp cumin
• ¼ tsp turmeric
• 1 fresh chilli, chopped finely
• 600g skinless chicken breasts, cut into cubes
• 2 cups green beans, cut into pieces
• 2 cups pumpkin, cut into cubes
• ½ red pepper, sliced
• 1½ cups coconut cream
• ¼ cup water
• 1 tsp brown sugar
• 4 kaffir lime leaves
• basil and coriander leaves for garnish

1. Into a processor or mortar and pestle place the garlic, lemongrass, ginger, shrimp paste, peanut oil, cumin, turmeric and chilli. Blend or grind to form a paste.
2. Heat a fry pan to a medium heat and fry the paste for 2 or 3 minutes until fragrant.
3. Add the chicken and vegetables. Stir to coat for 3 minutes.
4. Add the coconut milk, water, sugar and lime leaves.
5. Simmer gently until the pumpkin and beans are soft.
6. Garnish with basil and coriander leaves and serve with rice.

Chef's tip
The zest of a lemon can replace lemongrass if it's not available.
- VIVA