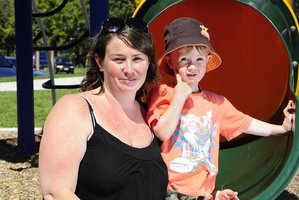 Children's playgrounds and sportsfields are to become smoke free as part of a drive to eventually shame people from lighting up anywhere in public outdoor areas in Tauranga.
The Tauranga City Council yesterday adopted a smoke-free places policy where signs will go up around selected outdoor areas asking people not to smoke.
The council stopped short of banning smoking in areas of the city where people congregated including playgrounds, sportsfields and bus stops.
If proved to be effective in high use areas like the downtown bus stops and Memorial Park, the council would then look to add more smoke-free places.
Meeting chairman councillor David Stewart said it was about making smokers feel uncomfortable about lighting up.
He understood that employers could even discriminate against people who owned up to being smokers in a job interview.
Councillor Larry Baldock, who kicked a 30-a-day habit at the age of 22, said he would support fining people who flicked their cigarette butts on to the ground.
Yesterday's meeting also heard from submitters who mainly backed the smoke free policy, including Papamoa professional hypnotherapist James Marx who wanted Tauranga to replicate the Australian town of Southport where children picked up 52kg of cigarette butts. "Why should smokers think they have the right to flick their butts on to pavements and gardens," he said.
Other councils in New Zealand, including Taupo, fined people $100 for dropping their butts, he added.
Brian Pointon from the Bay of Plenty District Health Board admitted to Mr Guy that the sight of Tauranga Hospital patients smoking on Cameron Rd was not a good look but the board did not want to condone smoking in certain areas of the hospital grounds.
Once the number of smokers in society reached very small numbers, it would become less of an issue, he said.
Passersby would continue to see people smoking on Cameron Rd for the next few years, but having smoke free bus shelters would help, Mr Pointon added.
Toi Te Ora Medical Officer of Health Phil Shoemack urged the council to extend the smoke free policy so the 2025 Smokefree Aotearoa target was met.
They would be neighbourhood reserves, walkways, footpaths and al fresco dining.
Welcome Bay mum Tracey Lee said she could not recall the last time she saw someone smoking in Memorial Park.
"It is good to make people aware that smoking is not good."
For more articles from this region, go to Bay of Plenty Times