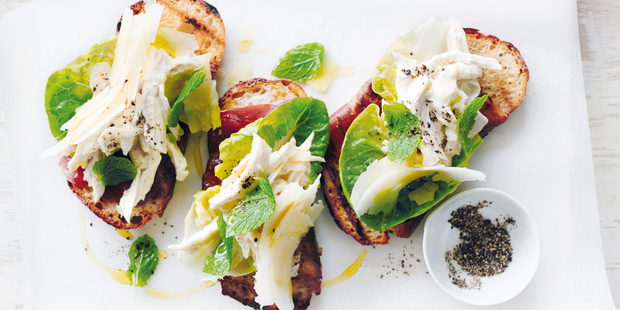 Chargrilled caesar bruschetta. Photo / Donna Hay Magazine
Serves 4
• ¼ cup sour cream
• 1 Tbsp lemon juice
• 4 anchovy fillets, chopped
• 1 clove garlic, crushed
• Sea salt and cracked black pepper
• 2 cups cooked chicken, shredded
• 8 thin slices sourdough bread
• 8 slices prosciutto
• Olive oil, for brushing
• 8 baby cos lettuce leaves
• Mint leaves, to serve
• Shaved parmesan, to serve

1. Place the sour cream, lemon juice, anchovies, garlic, salt and pepper in a bowl and mix to combine. Stir through the chicken and set aside.
2. Heat a chargrill pan over high heat. Wrap each bread slice with a prosciutto slice and brush with olive oil. Cook for 2-3 minutes each side or until just charred.
3. Place the sourdough slices on a dish and top with the lettuce leaves, chicken mixture, mint leaves and parmesan to serve.