White paint on floors lends sparkle and energy to a formerly drab space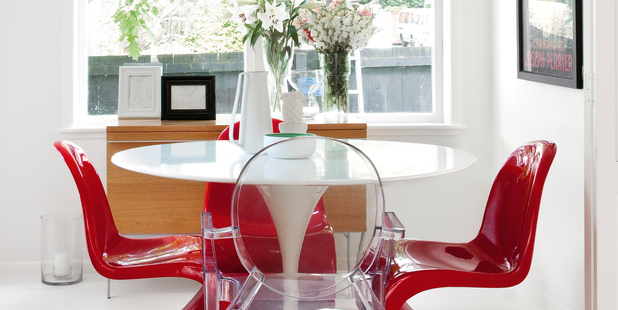 With a growing family, lots of space was essential for Rochelle Cooper when she and husband Ashley were househunting on Auckland's North Shore.
Initially, they planned to buy a home with two lounges, one for the adults and one for their children, Montana, 11, Brody, 8, and Ivy, 1. But when they found their two-storey home near Narrow Neck Beach, the extra living space was no longer an issue.
"Here, each of the children's bedrooms is big enough for them to hang out with their friends," says Cooper. "It works so well as a family home because there's so much space."
As well as three large bedrooms and a bathroom with views of the sea, the upstairs has a sunroom facing the city, while the downstairs living space consists of a lounge, dining area and kitchen that open to a lawn with a playhouse.
With the existing layout suiting the family just fine, it was simply a matter of a small renovation, updating the decor and putting their stamp on it.
When the couple first viewed the home, it had a collection of porcelain dolls on display, and a mostly brown and dated interior. The family continued renting for a month so that renovations could be done before they moved in. By that time, new carpet had been laid upstairs, the downstairs floorboards had been sanded and painted, the internal walls relined and repainted, the windows double glazed and the sunroom had been gutted. Any leaks in the roof had been fixed and light fittings replaced.
In the kitchen the parquet flooring was removed, the cabinetry was stripped back and the appliances were updated.
"We'll eventually put a marble benchtop down," says Cooper. "We've kept the galley style as it works really well."
And she had come up with a simple, effective way to give the house a lift.
"I knew the floorboards would look amazing painted white, and it would work well with our contemporary furniture."
Initially, her husband wasn't keen on painting the floors, but Cooper showed him some photos of examples so he could get an idea of how the look would work.
"I felt it would brighten up the house, with the imperfections of the wood giving it that lived-in feel."

Style tips
Easy update: changing a room's decor needn't be a major; just spraypainting a piece of furniture can do the trick. "You can also add different textures and colours with cushions and sheepskin rugs," says Cooper. "I rearrange things often and add or take away pieces."
Classic touch: She loves European design. "I like the work of furniture designers Philippe Starck and Charles and Ray Eames, with a bit of contemporary glamour and sparkle thrown in."