Grant Allen meets a couple keen to teach old domestic skills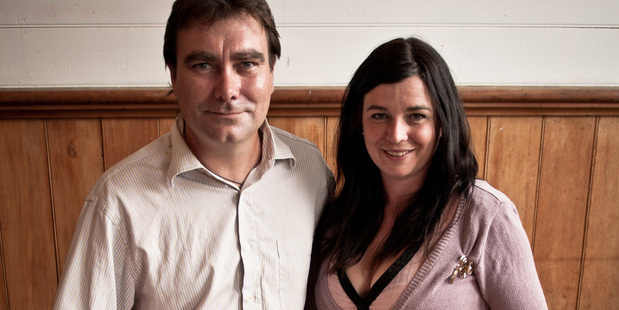 It was a on a perfect day that we emerged from the Lyttelton tunnel, turned right and wound our way around picture postcard bays to meet up with Anna and John Mayh.
The arranged destination was Charteris Bay, Banks Peninsula. The peninsula has a sense of time standing still. Towering hills, mud flats and salt mashes remind one of colonial paintings where new settlers sailed into Lyttelton to be faced with a trek over the hills to Christchurch and the Canterbury plains.
Spasmodic settlements now dot the area; the bays are a weekend retreat for fishing and sailing. The hills are still farmed and remnants of the colonial past remain.
We meet John and Anna at Orton Bradley Park, an amazing historical precinct. Cottages set among ageing oaks, an old dairy, early sheep sheds, a fern house and the most unique weir and water wheel that still generates electricity to supply the property.
In this cluster of domestic and working buildings is an old school house, and this is where Anna holds her Pig-in-a-Day workshops. It seems the most appropriate setting to be teaching time-honoured domestic arts and a continuance of skills that would have been day to day practice in this very spot more than 100 years ago.
While there were no pigs being prepared this day, Anna and John had spread a table with their home made products and kitchen efforts. Fresh cheeses, bread and butter, crackers, brined olives and feta cubes, and tiny, intense bunches of purple pinot grapes were set out accompany their cured meats and home-smoked salmon, chorizo sausages and a slab of bacon to show how it's done.
A couple of bottles of 20th century pinot noir made the feast complete.
So how did Guernsey-born John and English Anna end up here making bacon?
These two are imbued with the same spirit that brought many (including my own ancestors) from "the old country"to this part of the world all those years ago. To quote John and Anna: "A bottle of wine and an atlas. That is how our journey began from the small Isle of Guernsey to the unknown land at the bottom of the globe. Were we crazy? Selling all we owned and moving with 1, 2 and 3-year-olds to a land we had never seen? Maybe! But what's the fun in life without a little crazy?"
Island boy John, had to have a coast and they settled in Banks Peninsula's Purau Bay.
Once here, Anna took to home-schooling the kids while John worked in town. Fully embracing the good life philosophy, Anna's kitchen became a workshop for all manner of country skills. Neighbours and friends wanted to be part of it all and in the end public workshops were organised. Preserved Ltd had taken on a life of its own.
Fast forward and such has been the popularity of these workshops, where you get to learn the many things you can do with a pig, the pair have found a way to take the show on the road. A trailer has been built with a chill room and storage. Hitched up, the family can now travel and teach. The home-schooled kids will also be on board. Their first destination, Wanaka.
I'm determined to get them as far as Auckland, because the idea of a Pig in a Day has great appeal to me!
Here are some lovely recipes from Anna. No preserved pig ones, you have to learn those from the source, but follow their story by contacting them via preserved.co.nz or following them on Facebook.

Recipes
• Focaccia bread
• Home-made butter
• Home-made crackers
• Feta
• Preserved olives