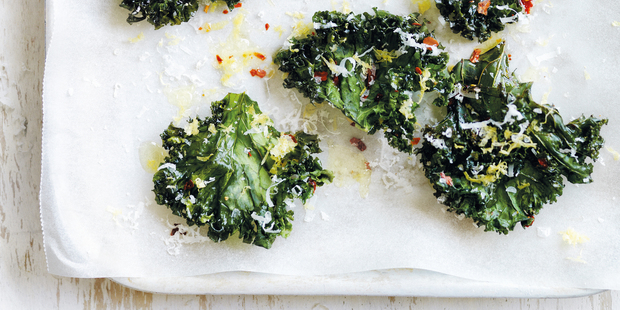 Spicy kale chips. Photo / Donna Hay Magazine
Serves 4
• 200g kale, stems removed and roughly torn
•1 Tbsp olive oil
• ½ tsp dried chilli flakes
• ½ tsp smoked paprika
• Sea salt and cracked black pepper
• ½ cup finely grated parmesan, to serve
• Finely grated lemon rind, to serve

1. Preheat oven to 180C. Place the kale, oil, chilli, paprika, salt and pepper in a bowl and mix well to combine.
2. Divide between 2 large baking trays lined with non-stick baking paper and bake for 8-12 minutes or until crispy.
3. Allow to cool and sprinkle with the parmesan and lemon rind to serve.