Recycling character furniture helped give new life to a former state house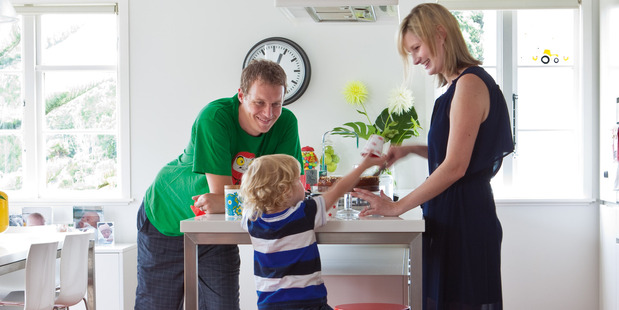 Designing and managing the renovation of their home allowed Becky and Greg Lewis to apply valuable work skills to their personal lives.
Becky, an interior designer, and Greg, an engineer, had the perfect canvas in a two-storey former state house in the Auckland suburb of Meadowbank.
They knew it was the one for them before they had even walked through the front door.
"We bought the house on my birthday in 2002, after searching for quite some time," says Becky. "Houses were selling within hours of being listed and we'd just about given up."
Says Greg: "I had to twist Becky's arm to get her to the open home. But we looked at each other as we walked towards the front door and agreed we loved it."
Becky enjoyed the chance to put her years of experience working in the interiors industry to good use, designing the interior layout and looking after the decorating, while Greg took responsibility for the technical side, including drawing up the renovation plans.
With a north-facing aspect and an elevation that offers an outlook over parks and native bush, it's easy to see the home's appeal.
"The house had a really nice feel about it, the location was great and the view was amazing," says Becky.
The renovation took about three months to complete. "We put our furniture into storage and moved out, giving our builders free rein of the house," says Becky.
Extending the front and back of the house created space for a new kitchen and dining area, as well as allowing them to enlarge the bathroom and bedroom on the upper level.
Becky's love of refurbishing mid-century modern furniture is evident throughout the house.
"Over the years we've been to countless vintage stores and come home with what I thought were the most awful pieces of furniture," says Greg. "But with restoration they always come out looking great, and I've learned to trust Becky's instincts."
The renovation might be finished, but Becky still enjoys shifting things around and restyling the home they share with sons Levi, 3, and Finn, 1.
"When we first moved in, we had a few borrowed cushions and a beer crate for furniture, but over time our home has really evolved. I've become relaxed about our things, and I'm not too worried if something gets broken," says Becky.

Style tips
Storage sense: "We renovated before we had children," says Becky, "and much of the storage in the house was removed to make way for living spaces. But with children you need storage and a decent linen cupboard."
Retro revisited: Used furniture can be inexpensive to buy and adds character to a home. Becky says the pair of retro chairs she bought for $7.50 each came up a treat when she refurbished them.