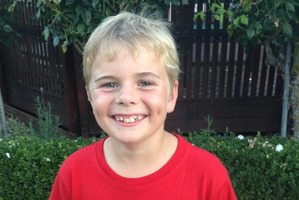 The boy who has featured in the shave-your-head-for-cancer campaign since 2011 is in remission from his serious blood disease.
Kole Satherley, now 7, was diagnosed with aplastic anaemia when he was 5. He and his family spent a year commuting between their home in Palmerston North and Starship children's hospital in Auckland for medical tests and treatment, including several lumbar punctures and blood transfusions.
The rare disease causes the bone marrow to stop making enough new blood cells. This can cause fatigue, an inability to fight infections, blood that won't clot and heart failure. It can be fatal if not treated.
Kole is now in remission but still has monthly blood tests and visits Starship once every six months.
"Kole has just started playing inter-club tennis and his tennis manager and new teacher both asked if he was the boy on the Shave for a Cure advertisement," said his mother, Cara. "That put a big smile on his dial."
Kole is keen on sport and as well as playing tennis, he swims and is looking forward to the soccer season - his team kept a place for him during his treatment.
"Unlike many blood cancer patients receiving medication, Kole didn't lose his hair during treatment," said Mrs Satherley. "However, when Leukaemia and Blood Cancer New Zealand approached us to see if we'd like to be involved with the campaign, he jumped at the chance to be on the telly."
Shave for a Cure is the information and support group's main fund-raising event, in which people are encouraged to have their heads shaved. The group says six Kiwis are diagnosed every day with a blood cancer or related condition.
"We estimate there are over 10,000 New Zealand families living with a blood cancer diagnosis," said chief executive Pru Etcheverry.
"Shave for a Cure enables us to continue to provide our services free of charge to these families."