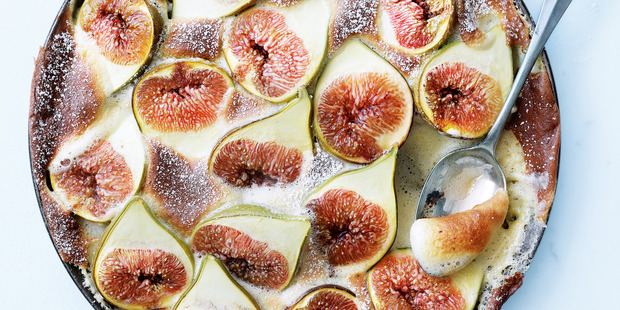 Fig and ginger sabayon. Photo / Donna Hay Magazine
Serves 6-8
• 5 egg yolks
• ¼ cup caster sugar
• ¼ cup ginger-flavoured wine or liqueur
• 8 large green figs+, halved
• Icing sugar, for dusting

1. Place the egg yolks, sugar and wine in a heatproof bowl over a saucepan of simmering water and, using an electric mixer, beat for 6-8 minutes or until thick and pale.
2. Remove from the heat and beat for 3-4 minutes or until the mixture has cooled slightly.
3. Pour into a 25cm deep-sided round tray. Arrange the figs, cut-side up, on top of the custard and cook under a preheated hot grill for 2-3 minutes or until custard is golden.
Dust with icing sugar to serve.
+ Green figs hold their shape better when they are cooked.