Each week intrepid reporter Rachel Grunwell will try out a new form of exercise to bring you the lowdown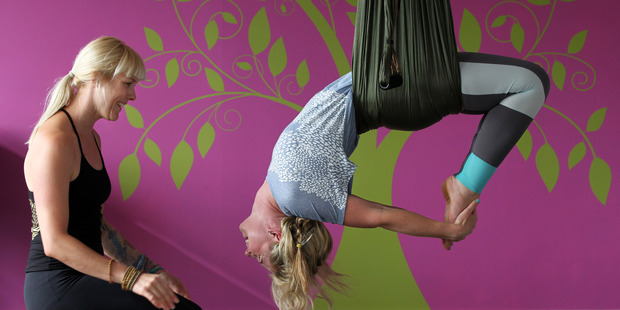 Soulswing
What is it? Yoga/Pilates using a silk swing. It's similar to New York's anti-gravity aerial yoga, dreamed up by Christopher Harrison who was one of the co-founders of Cirque du Soleil.
What's needed? Exercise gear, bare feet.
The experience: When Michelle Keenan invites me to SoulSwing, she warns me to wear a snug top. I'll be hanging upside down so it's best that I don't wear a loose top that could reveal all.
"You wouldn't want your boobs to fall out," she laughs. I laugh harder. My chest is not exactly like Pamela Anderson's but I do as I'm told.
I'll confess, my eyebrows rose when Michelle wrote to me about SoulSwing. Possibly to the height of, well, Mt Ngauruhoe, perhaps. It looked a tad hippie. Even for a yogi (someone who digs yoga) like me. Soul Space Pilates and Yoga is above a block of businesses in the suburbs of East Auckland. It's an understated but welcoming space.
Michelle is also welcoming. She has a broad smile and is quirkily cool: her left arm is inked with flowers and butterflies and she has gold wings printed on her yoga tank top.
In the class this day is a bendy gal in her 20s, Nat, and 50-something Paul. We start cross-legged on the floor, praying-like, breathing deeply and chanting, "Ommmmm".
This makes our bodies vibrate and brings us into "harmony", says Michelle. She then tells us to "think about something you want to change in your life" and how this might be achieved.
My eyes are closed and I'm relaxed by the calm-inducing exercises such as rolling shoulders, which massage the spine. This is the power of yoga, which I know well.
After the warm-up, we use large silk swings to challenge us in our yoga poses and to provide support. These resemble hammocks used to rock babies to sleep. They're made of strong parachute nylon, are suspended from a sturdy ceiling beam, have handles to grip or support feet and carabiners to adjust the height of the apparatus.
We do the downward dog, child's pose, forward bends to touch our toes and planks, with the swings holding us up from around our middles or limbs. The swing helps us experience yoga poses differently.
For instance, in yoga, you might do a handstand pose or a headstand. With the swing, the spin on this move is that you actually weave your feet around the sides of the swing and hang upside down. This is called an inversion, which is any time your head is lower than your heart. Michelle tells us it is great for the spine, brain, heart, circulation and also our "sense of play". It's giddy fun.
Nat giggles and asks Paul "how's it hanging?" I just enjoy defying gravity. I feel euphoric.
Perhaps that's the blood rushing to my head. Michelle adds that inversions help us look "younger". Perhaps I ought to stay head under heels a bit longer.
Just before we end the class, we spend several quiet minutes lying snuggled in the silk swings, like cocooned butterflies. Nat says, "Ahhhh, I see why babies love being rocked to sleep." I'd agree.
SoulSwing turns out to be some kind of wonderful. Or maybe I just like monkeying around.
How much? Casual class $23, 10x concession $170 (three-month expiry), 10x concession $200 (six-month expiry). Membership rates depend on how many classes you attend.
Worth it? Good for flexibility, working the core and all muscle groups, strength and stress relief. Plus it's playful.
Try it: Soul Space Pilates and Yoga, 18E Aberfeldy Ave, Highland Park, Howick, Auckland, www.soulspace.co.nz
Rating: 9.5/10