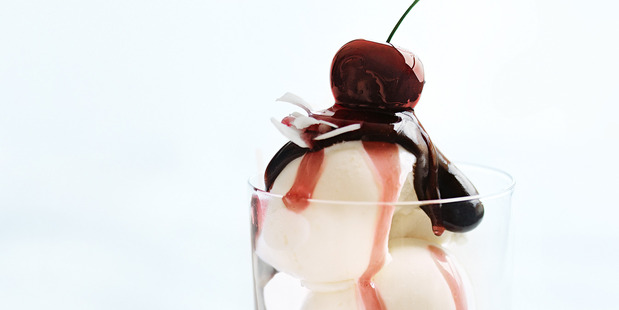 Cherry and chocolate sundaes. Photo / Donna Hay Magazine
Serves 4
• 12 scoops store-bought coconut icecream
• Coconut flakes, to serve
Marinated cherries
• ½ cup caster sugar
• ¼ cup water
• 2 Tbsp kirsch (cherry) liqueur
• 400g cherries
Chocolate fudge sauce
• 200g dark chocolate, chopped
• ½ cup pouring cream
• 2 tablespoons honey
• 50g unsalted butter
1. To make the marinated cherries, place the sugar and water in a saucepan over low heat and stir with a metal spoon until the sugar is dissolved. Increase heat to high and bring to the boil.
2. Cook for 4-5 minutes, without stirring, or until thickened. Add the kirsch and stir to combine. Add the cherries and cook for a further 1 minute or until just coated in the syrup.
3. Refrigerate for 2 hours or until chilled. To make the chocolate fudge sauce, place the chocolate, cream, honey and butter in a saucepan over low heat and stir for 8-10 minutes or until melted and smooth. Cool to room temperature.
To serve, spoon some cherries and syrup into glasses. Top with icecream, more cherries and syrup, spoon over the fudge sauce and sprinkle with coconut.