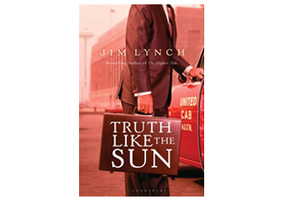 Truth Like the Sun by Jim Lynch
(Bloomsbury $36.99)
The 19th century novels I still like give a strong sense of demanding to be read aloud to an audience. But by 1950, I would say, that lingering expectation of how a novel delivers had changed, in most languages and even most genres.
The new novel became a thing that was very often the foetus of a film. Sure, drastic surgery would usually take place in infancy, some of the face transplant type, some of the Siamese twin separation type, some lobotomies, and some amputations at the neck, you would have to say.
Truth Like The Sun is quite a good proto-movie novel, replete with spectacle, locations and very good-looking leads, with flashes of literary brilliance. E.M. Forster, who knew about these things, said that a character attained the most verisimilitude when he or she acted out of character, but remained fictionally convincing. This is Jim Lynch's rare skill - his people start off mildly stereotypical, then a few brilliant touches individualise them sharply.
It's a crime thriller in the sense that we are holding on tight to a headlong narrative, with suspense, greed, repeated frustrations that have to, and do resolve, a clear contest between "good" and "evil" - but we are also implicitly asked to think a bit about questions like, "is it American cities that are necessarily corrupt, or is it all cities everywhere, with their politicians beholden to corporates, and planning committees in cahoots with developers?"
And because it's a crime thriller I won't tell you about the plot, except to say that it doesn't hinge on an unbelievable coincidence. Lynch is a very experienced journalist, and the texture of his cause and effect shows it.
Our heroine Helen is an ambitious, arguably workaholic, struggling-with-it solo mum reporter chasing a Pulitzer. Towards the end she gets a nice boyfriend, but in one of many light touches, we don't need to know too much about it, and we don't get told.
Tactful, discreet even. But feel-good-wise, he likes her kid, who reciprocates.
And the big, bad boy, Roger Morgan, starts and stays sympathetic, possibly because he is a flawed idealist driven by vanity and the strange need to compensate for other people's failings. He compromises and lies and manipulates but although he colludes with the greedies, no one ever proves he's really in it for the money.
I have to say I was startlingly reminded of a former close friend, now deceased, in a way that I can't remember in my experience of life imitating art and vice versa. Never, in the thousands of novels I have read, has a friend (and he was unique) leaped from the pages like this. Or into them, if you get my drift.
Even in his 70s Roger reads Harry Potter to his ancient, domineering and very ancient mother. Because he loves her. I liked that too.

Rick Bryant is an Auckland reviewer.