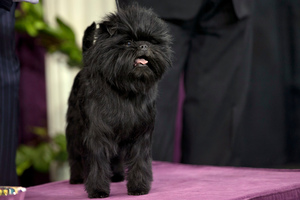 A tiny black affenpinscher called Banana Joe has become top banana in America's dog world by winning Best in Show at the Westminster Kennel Club Dog Show in New York.
After winning his toy dog category, Banana Joe went on to face serious - not to mention much bigger - competition in the final round pitting the best in breeds against each other on Tuesday.
Check out all the pictures here
Up against the minuscule pooch were a German wirehaired pointer, a smooth fox terrier, an American foxhound, a fluffy white bichon frise, a Portuguese water dog and an enormous shaggy old English sheepdog.
Swagger the sheepdog, which resembled a cross between a lion and a cotton wool ball, was a crowd favourite, earning huge cheers every time it ran around the judging ring.
But there was also warm sympathy for the little affenpinscher and the dog himself seemed chuffed with all the excitement at his win.
"I think it's just a wonderful thing, a tribute for a small breed with such a big heart," said his handler, Ernesto Lara.
Lara said the champion would now rest on his laurels in The Netherlands.
"He's going to retire back home where he was born," he said. "That's where he's going to spend the rest of his life."
- AFP