Address:
599 Sandringham Rd, Sandringham
Phone:
(09) 815 7086
Rating out of 10:
Food: 7, Service: 8, Value: 8, Ambience: 7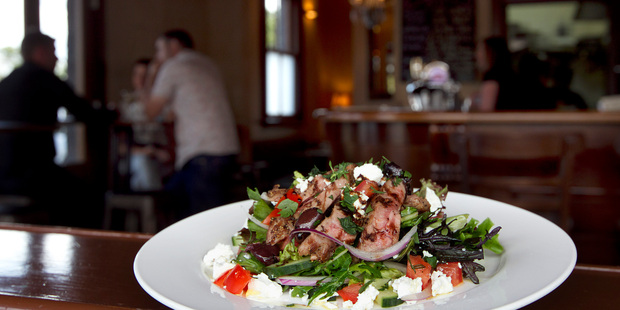 Oh, the excitement. There was going to be a bar opening in Sandringham, one that we could honestly call our local.
And, in 2011, in a space previously occupied by what was universally believed to have been a brothel, Prague opened its doors.
It's not a large space. In fact, it's almost miniscule. In the dining area, there is room for but six diners, and they should be good friends. If they're not already, they will be after the meal is over.
The bar has a few tables and leaners, and a similar number in the outdoor covered area facing on to Sandringham Rd. This is a spot coveted by smokers, but loud voices and warm clothing are necessities.
And, just to maximise the space available to them, there are tables and chairs along the Haverstock Rd frontage.
But it's warm and friendly inside and a good place to catch up with other locals.
We had booked this early week-night, which, given the size of the dining room, was a jolly good idea. It was also nice to discover that on Monday nights Prague offers $15 mains, with some exceptions, so we were happy to take advantage of this.
The tapas menu also serves as the entrees list, so bread and dips, olives and the salt and pepper calamari seemed a good a place to start.
Andrew also ordered pork belly squares with cream and mustard sauce and crostini, and was well pleased, the pork belly cooked to perfection.
I found the calamari a little chewy for my liking, although Julie was satisfied with the texture. The olives and dips were quite adequate.
Andrew tends to head for meaty dishes when dining out, and his sirloin steak was cooked exactly to his liking, tender and flavoursome. The chips (yes, steak and chips and salad, and what's wrong with that?) were excellent, crisp on the outside and fluffy where it mattered.
Julie's pasta of the day was salmon and pesto. It was so good that she took the remainder home for lunch the next day. I was less pleased with the warm lamb salad, the meat again a little chewy, but the flavours were well-judged.
Bill's seafood marinara special was fine but lacked any sort of wow factor.
We finished by sharing some very sweet but rather greasy churros with chocolate dipping
sauce.
Even though the name is bemusing - there doesn't seem to be any reference to the Czech Republic in food or beverage - Prague is a great wee spot for a drink or a meal.
There have been whispers of some unevenness in service but the night we were there it was very satisfactory. Welcome to the 'hood, Czech mate.