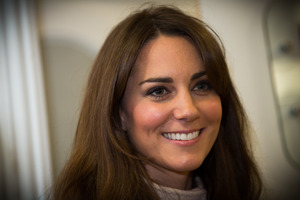 Kate Middleton is facing a fresh set of paparazzi problems after being snapped in a skimpy bikini.
The photos, which apparently clearly show the Duchess of Cambridge's pregnant belly, were taken on one of the world's most private islands - Mustique in the Caribbean - where the royal couple had been staying at a NZ$35,000-a-night villa.
The pictures feature Kate, 31, walking in the surf with her husband Prince William.
Others are understood to show her sister Pippa in a bikini.
It is unclear whether the shots were taken from on the island, or whether the photographer snapped them from a boat offshore.
While the pictures have not been published anywhere, a bidding war is likely in the US, Australia and Europe, where they could sell for close to NZ$500,000, the Sunday People reported.
The scandal comes just five months after topless pictures of the Duchess sunbathing in France caused outrage.
- www.nzherald.co.nz