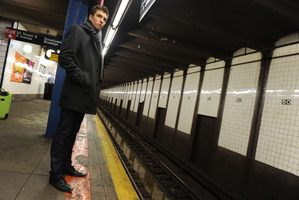 Late on Valentine's Day last year, a man rode the subway alone. He was 70 maybe, but in good nick for his age, and he wore a perfect tuxedo and bow-tie. His hands were lean and long, and he rested a small case upon his knees. In his hand he held a single red rose.
A tipsy young couple clattered aboard, and dropped upon a bench. They wrapped up their limbs and pashed and giggled together.
The man with the rose and the tux didn't move.
I wondered where in New York he'd spent Valentine's evening. I wondered about the tux, if he'd shared dinner at a fine, romantic restaurant, and where his date had ended up.
Most of all, I wondered about the single red rose - if it was a gift he'd give or had received.
The young couple spluttered with laughter and lust. The man stepped off the train.
New York is a city of romance, for sure. The streets are inviting, the architecture's grand, and the culture's as abundant and diversified as the dining is rich. I once plodded through the snow in the middle of Central Park and saw a man drop to his knee with a ring.
Are you kidding? Of course she said yes.
But sometimes, too, New York's a tough place for love. People are fickle, transient, aggressive and ambitious (myself included). Come Thursday, I'd be lying if I told you that I won't be riding the subway alone. It's a weird thing, in a city of 12 million people, to occasionally feel just a bit lonely.
For some time after Valentine's Day, I thought of the old man in the tux. I daydreamed of backstories and of who he might be. I wondered if he'd spent every Valentine's Day alone. Perhaps he was a widower. Perhaps his story was, in fact, too sad. Perhaps he'd had dinner alone at his wife's favourite restaurant. Perhaps she'd even left him for somebody else.
It was stupid, of course, to dream of a stranger so sad in a city so wild and exhilarating.
A few months later I spent a night at the city opera and waited as the orchestra packed up after the show. In the middle, by the flautists and oboe players, was a man of about 70, in good nick for his age. Each musician wore a black tuxedo. Each carried a case. And each of them had a single red rose.
On another auspicious occasion of sorts, the expat crowd gathered in a Manhattan bar this week to celebrate Waitangi Day. Instead of mussel fritters the masses ate pies. There was good Kiwi beer and rich Kiwi wine, rugby balls and Nature's Best on repeat. Any nationalistic surges didn't quite match the blind fervour of 'Straya Day, but we celebrated and appreciated our home.
Yes, history's blighted, grievances under-appreciated. But it is the contrast of Waitangi Day and the significance it carries that unites us all, wherever on Earth we might be.