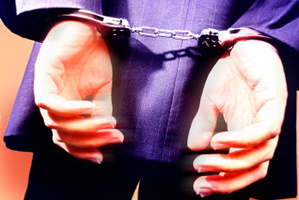 Hooray for all the French fashion ladies, who today dance in the streets of Paris in their pantalons - joyous at the news they may now wear trousers in public without being carted off to the cells.
France's Minister of Women's Rights Najat Vallaud-Belkacam has revoked a 200-year-old law that forbid the distasteful practice:
"'This order was aimed, first of all, at limiting the access of women to certain offices or occupations by preventing them from dressing in the manner of men. This law is incompatible with the principles of equality between men and women which is laid out in the Constitution and in France's European commitments," she said, as reported in Le Parisien.
The decree, passed in 1799, was amended at the turn of the century to allow women to wear trousers only "if the woman is holding a bicycle handlebar or the reins of a horse".
It first came to be after the French revolution, when Parisian ladies started getting lippy and demanding the right to wear trousers.
The regime that took over when the monarchy fell was alarmed by the idea of women's equality, thinking it could weaken their stronghold, so banned pants to keep things in check.
How silly! Here are some more interesting laws that hang around the present day, mainly in musty files everyone's forgotten about:
- It is legal for a male to urinate in public, as long it is on the rear wheel of his motor vehicle and his right hand is on the vehicle (UK - thanks BBC).
- Also in the UK: Any person found breaking a boiled egg at the sharp end will be sentenced to 24 hours in the village stocks. It is illegal to die in the Houses of Parliament. Any boy under the age of 10 MAY NOT see a naked mannequin. And a pregnant lady may wee anywhere she pleases, even in a policeman's hat.
- In Ohio, it is illegal to get a fish drunk. In Alaska, it's moose. Just stop trying to party with the animals everybody, PLEASE.
- In Bahrain, a male doctor can't examine a vagina unless it's in the reflection of a mirror.
- In Florida, unmarried women who dare to parachute on a Sunday may as well land in the cells, because that's where they'll be headed afterwards, blasphemous singleton sky-floaters that they are.
- In Hawaii, DO NOT PUT COINS IN YOUR EARS. Because jail, maybe.
- If you're a one-armed piano player in Iowa, it's not enough punishment that you're a one-armed piano player in Iowa - you must also play for free.
- In Louisiana, you cannot gargle in public places. (They should keep that one).
- And back to France, where it is illegal to name a pig 'Napoleon'.
P.s. In Maryland, it's against the law to take a lion to the movies. Biggest killjoys ever.
Follow Rebecca Kamm on Twitter.